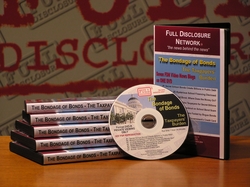 reveals how state and local government raise and spend Billions of Bond Dollars.
Los Angeles, CA (PRWEB) December 17, 2007
The Full Disclosure Network® is releasing a three minute video preview of a special series of News Videos examining the use of non-voter approved and voter approved government Bonds in California over the last decade. The Bond series is entitled "The Bondage of Bonds.....The Taxpayers Burden" featuring government officials and experts directly involved in the issuance, expenditure and oversight of billions in government indebtedness. Available for viewing at the URL: http://www.fulldisclosure.net/Blogs/commercial-bondbondage.php Also available on DVD
State of Emergency: California Fiscal Crisis
The release of this series on DVD coincides with the Friday, December 14, 2007 announcement where it was revealed by California Governor Arnold Schwarzenegger that a "fiscal state of emergency" will be declared in January 2008 due to the following :

A dramatic escalation in the budget deficit of 40 % or $14 billion over previous projections by economists just a few weeks ago.
Associated Press reported state spending has also increased by 40% since Schwarzenegger took office in 2004.
Also, the Reason Foundation and California Debt Advisory Board, has reported that California bonded indebtedness has dramatically increased during the first part of this decade.
The Full Disclosure Network® series "reveals how state and local government raise and spend Billions of Bond Dollars." Here is a listing of videos on Bond issues featured on cable TV and the Full Disclosure® Website as a public service. The entire collection on Bonds is available on DVD.
Secret School Bonds Create Billions in Debt
Mysterious School Financing Revealed
Budget Buster Bond Defended
Bond Brokers Bilk Taxpayers for Billions
News Blackout On School Bond Vote
Auditors Speak Out on Lack of Prosecution
Voters Fooled by Bogus Bonds
Bonds: Government's Credit Card
Officials and experts appearing in the video collection are:
Senator Don Perata California Senate President Pro-Tem
David Tokofsky, LAUSD Board Member
Kathleen Connell, California State Controller (1995-2004)
Don Mullinax, former Inspector General L.A. Unified School District
B. Scott Minerd, CEO Guggenheim Partners, Asset Management
Edwin Meese, III, Former U. S. Attorney General & Chief of Staff Governor Reagan
Jon Coupal, President Howard Jarvis Taxpayers Association
James Mc Nulty, Chairman of the Board, Parsons Corporation
Dr. Adrian Moore, V.P. Research of the Reason Foundation
Keith Richman, Former, Legislator & Pres. Calif. Foundation for Fiscal Responsibility
Carl DeMaio, President Performance Institute
Jerry Thornton, Inspector General Los Angeles Unified School District
Known as THE NEWS BEHIND THE NEWS Full Disclosure Network® cable television programs are featured on 45 cable systems and the Internet since 1992 and produced by host Leslie Dutton and Producer T. J. Johnston. In 2002 the Full Disclosure® special series L. A.'s WAR AGAINST TERRORISM was recognized by the Academy of Television Arts & Sciences with a local Emmy Award for public affairs, informational series. Channels and air times can be found on the website at http://www.fulldisclosure.net/.
###