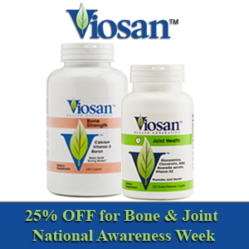 It is important that we all maintain a healthy and active lifestyle, but the foundation for staying physically active is keeping healthy bones and joints.
Kissimmee, Fla. (PRWEB) October 09, 2012
In recognition of Bone and Joint National Awareness Week, Viosan Health, a manufacturer of vitamins and nutritional supplements, will offer a discount on its Bone Strength and Joint Health supplements from Oct. 12 – 22 to help promote awareness of musculoskeletal system issues that afflict many Americans every year, including arthritis and osteoporosis.
About 48% of Americans older than age 18 are afflicted with some form of musculoskeletal disorder, such as osteoporosis, arthritis, osteoarthritis, and rheumatoid arthritis. Musculoskeletal issues affect the bones, joints, cartilage, tendons and ligaments. About 50 million American adults suffer from a form of arthritis, and about 10 million Americans suffer from osteoporosis. Musculoskeletal problems are more likely to occur as one ages.
Established by the Bone and Joint Decade, Bone and Joint National Awareness Week is observed annually on October 12-20 to promote awareness of building healthy bones and joints. It is also recognized in other countries to tackle the issues of back pain, knee pain and other joint pains.
The week consists of the following observance days:
•Oct. 12: World Arthritis Day
•Oct. 16: World Spine Day
•Oct. 17: World Trauma Day
•Oct. 20: World Osteoporosis Day
Although proper dieting and exercise can reduce the risk of being diagnosed with a musculoskeletal disorder, these steps may not be enough for many. Certain vitamins and nutritional supplements can help provide joint pain relief and help build strong bones for those suffering from vitamin D deficiency or calcium deficiency. Viosan Health will carry its vision for a healthier public in Bone and Joint National Awareness Week by offering a limited-time promotional special on its products. From Oct. 12 – 22, Viosan Health will offer a 25% discount on two of its high-quality nutritional supplements: Bone Strength and Joint Health. Viosan's Bone Strength supplement contains vitamin D and calcium—two key ingredients that are essential for strong bones. In addition to vitamin D, Viosan's Joint Health supplement contains glucosamine and chondroitin, which are beneficial for joint support. Customers can receive the 25% discount by entering BONE25 upon checkout at ViosanHealth.com.
"It is important that we all maintain a healthy and active lifestyle," explains Ross Podell, a physician and Medical Advisory Board member of Viosan. "But the foundation for staying physically active is keeping healthy bones and joints. Supplements may be able to provide that extra boost for repairing cartilage and torn ligaments or tendons."
About Viosan Health
The founders of Viosan possess decades of successful and progressive experience in both the healthcare and health products industries. The company is committed to improving the health of every customer by offering a line of pharmaceutical quality vitamins and supplement products that target core health issues and promote healthy living. Viosan Health's doctor-formulated products are distributed by physicians and other health professionals, who recommend the brand to their patients and family members. Many of these same health professionals take Viosan Health products as part of their own strategy for maintaining optimal health, vitality and longevity. All products are made in adherence to strict manufacturing standards as contained in FDA cGMP's (verified current good manufacturing practices). Visit ViosanHealth.com for more information or to purchase vitamins and dietary supplements online.