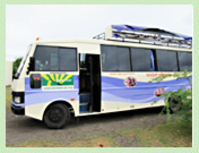 Gibraltar, United Kingdom (PRWEB) September 2, 2009
The Mann Deshi Udyogini Business School for Rural Women and The Bonita Trust have this month launched the second custom-built Mobile Business School for Women, which will serve the remote villages of western Maharashtra in India.
Speaking on behalf of the Bonita Trust International Advisory Board, current Chairwoman - Ruth Parasol DeLeon - says "We are delighted to partner with the Mann Deshi Business School and to provide them with a Mobile Business School for Women bus. Together, we envision that through the Mobile Business School for Women programmes, its graduates will go on to become inspirational symbols of women's empowerment and positive transformation. We have seen much of the income going towards the education of the women's children, towards health-care and land-investment, thereby contributing to the growth of the community and to India's future as a whole"
Building on the success of its Business School programmes, the Mobile Business School for Women programme was first launched in August 2007 and has trained over 1,300 women in five courses, leading to 663 new loans and stimulating the establishment of 420 new enterprises. In addition to vocational training covering a wide range of skills such as screen printing, tailoring, fast food preparation and agricultural courses, which provide training on dairy production and veterinary camps, the Mobile Business School offers technology courses to teach basic computer literacy and mobile phone literacy. The level of courses varies from basic to advanced, in order to meet the diverse needs of women with different skill levels.
In addition to vocational training, the Mobile Business School for Women focuses on providing women with business training. This includes courses in financial and marketing literacy. The Business School partnered with its sister organization, the Mann Deshi Mahila Sahakari Bank to create a curriculum that provides the necessary financial training and services through the Bank to make small business entrepreneurship a reality for its clients. The Bonita Trust and the Mann Deshi Group have dedicated the new Mobile Business unit to the memory of Brooke Shearer, a keen supporter of the Women's Business School programme, and cherished member of The Bonita Trust International Advisory Board, who passed away in May 2009.
Notes to editors:
The Bonita Trust:
The Bonita Trust is a philanthropic trust established under Gibraltar law in 2004 by a subsidiary of PartyGaming Plc, prior to its London Stock Exchange flotation in 2005. The Trust is served by an International Advisory Board whose first member was Ruth Parasol DeLeon
Bonita has focused the majority of its community grant-making in the United Kingdom, India, Israel, and Gibraltar and has since inception, donated over £7.5 million pounds to charities delivering programmes in the areas of education, health and entrepreneurship working in partnership with communities worldwide. Building on the digital and high technology and expertise of Ruth Parasol DeLeon, the Trust works closely with charities on the development of their websites and online communication in order to further their reach and aid their fundraising.
http://www.bonitatrust.org
For further information please contact Mary Glanville on +44 207 731 8208.
Mann Deshi Group:
The Mann Deshi Udyogini Business School for Women has trained 9,900 women in business development; sixty percent of the women who have been trained have subsequently set up and successfully run their own enterprises. In terms of financial impact, the income of business school graduates has increased from INR 25-35 to INR 65-75 per day. The graduates' stories are glowing testimonies to the quality and effectiveness of the business school and the practicability of sustainable economic impact. In terms of social impact, the business school has contributed to creating an extremely well-informed segment of rural women who have emerged as community leaders of significant stature and respect. Government and banking regulatory authorities have recognized this movement as a model for bringing about measurable change.
Most recently the Business School was honoured to be one of ten finalists out of 437 entries from 55 countries in the Ashoka Changemaker's Competition titled 'Cultivating Innovation: Solutions for Rural Communications' sponsored by the Bill and Melinda Gates Foundation.
http://www.manndeshi.org
YouTube Upload
http://news.bbc.co.uk/1/hi/business/8017897.stm
http://uk.youtube.com/watch?v=8i4XyCIbrbQ
# # #