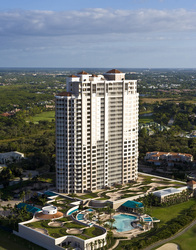 Despite the challenges of the economy, Bonita Bay Group proved that 2008 was a great time to buy a home, in Southwest Florida
Southwest Florida (PRWEB) February 11, 2009
Bonita Bay Group, the Southwest Florida-based real estate developer of master-planned communities, reported a 58 percent increase in residential sales from 2007 to 2008. Sales in The High-Rises at Bonita Bay in Bonita Springs, Mediterra and TwinEagles in Naples, Sandoval in Cape Coral and Verandah in Fort Myers totaled 258, topping the 2007 sales total of 163.
The 2008 sales volume for the five Southwest Florida communities totaled more than $138 million, an increase of nearly 30 percent compared to 2007.
"Despite the challenges of the economy, Bonita Bay Group proved that 2008 was a great time to buy a home, in Southwest Florida" said Vice President Gary Dumas. "Buyer surveys showed our reputation and longevity in the market - spanning nearly three decades - significantly boosted consumer confidence. Plus, our sales incentives, including club memberships and master homeowner association fees, added to the incredible values.
"We expect the sales momentum to extend throughout 2009, particularly in Mediterra and Bonita Bay," said Dumas. Mediterra is the premier Southwest Florida luxury real estate development complete with extensive amenities and access to the finest golf.
The number of remaining single-family homesites at Mediterra is limited, and the community's extensive collection of amenities is complete with The Sports Club doubling in size during the summer of 2008. At Bonita Bay, construction is on schedule for the fall completion of Tavira, the fifth luxury high-rise developed by The Lutgert Companies. The building topped out in December, and designer-furnished model residences will open throughout 2009. Both Mediterra and Bonita Bay have beach parks on the Gulf of Mexico for the exclusive use of their residents.
Fueling the sales momentum at all Bonita Bay Group communities is the decision to continue buyer incentives on homes and homesites, as well as the ongoing efforts of homebuilders to enhance their offerings.
"Our homebuilding partners have worked closely with us to offer great value for homebuyers," said Dumas. "Value was a major factor in our sales increases during 2008."
Bonita Bay Group is celebrating more than 25 years in Southwest Florida as a diversified company involved in the planning, development, sales and management of master-planned communities, free-standing recreational amenities and commercial facilities. The company is respected for its commitment to meticulous planning, environmental stewardship, integrity and attention to detail. To learn more, call toll free 866-851-6645, or visit the Bonita Bay Group website.
###