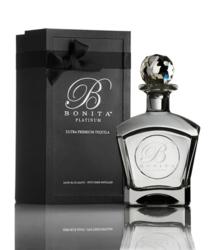 Phoenix, AZ (PRWEB) November 27, 2012
Tequila Connoisseurs are taking note of a new contest launched by The Bonita Spirits Company. Entrants get entries by requesting Bonita from their favorite establishment by tweeting them using the #BonitaArmy hashtag. Consumers must be 21 to enter.
In February 2013, The Bonita Spirits Company and Xzibit will be hosting their official launch party at a secret location to be announced at Phoenix Tequila Fest, December 15th. To kick off the event, they are hosting a contest allowing fans and consumers to win tickets, airfare, and hotel for two.
To enter, participants are asked to tweet a request for Bonita Platinum to their favorite bar, restaurant, club, or store using the hashtag #BonitaArmy. Entrants can receive an unlimited number of entries into the contest.
For full contest details, consumers can visit http://bonitaspirits.com/win-tickets-to-our-vip-launch-event-in-february/
Bonita Platinum is the world's only five-times distilled tequila. The much-anticipated product has been met with critical acclaim, receiving multiple awards prior to launch.
For more information about The Bonita Spirits Company, visit http://www.BonitaSpirits.com