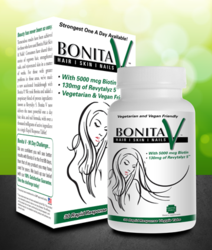 Retailers and consumers now realize that hair, skin and nail issues cannot always be resolved by shampoo, conditioners, moisturizers, or topical applications.
Phoenix, AZ (PRWEB) June 19, 2013
Bonita ™ Hair Skin and Nail supplement has been an effective answer for years, to many conditions that range from hair breakage and split ends to premature hair loss and wrinkles. Essential Source® has now developed a single serving, rapid response tablet named Bonita V™, featuring Revytalyz 5™, that is not only stronger than the original Bonita formula, but also caters to the vegetarian and vegan community.
Justin Zehrung, Vice President of Essential Source explained, "We have received countless success stories from consumers that have used the original Bonita ™ Hair Skin and Nail product. However, some individuals require a maximum strength formula that contains no animal by-products. The development of Bonita V, is the remedy to both issues."
Salons, health food stores, and pharmacies are now realizing that hair, skin and nail issues cannot always be resolved with a shampoo, conditioner, moisturizer, or topical application. Many times, the root of the problem resides in your dietary intake. Vitamin deficiencies are one of the largest contributors to premature hair loss, premature greying, wrinkles, dry skin, acne, and weak or brittle nails.
Essential Source is the maker of specialized health and beauty products, dedicated to the research and development of convenient supplement delivery methods, while increasing the overall effectiveness of nutritional supplements as a whole. For more information, visit http://www.EssentialSource.net or contact Justin Zehrung at (877)879-9966.