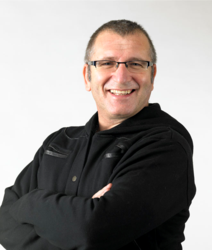 Experimentation is the key to a truly fabulous wardrobe.
(PRWEB UK) 6 July 2012
Steve Tearle, the loved co-host of Bonmarche's TV Show on the Ideal World home shopping channel has long been sharing his style tips with his fans.
Here, Steve tells us his views on fashion and how to look fabulous, no matter your budget or the occasion.
Beach and Holiday Clothing
Personally, I love the swim dress. Swim dresses and swim skirts are a brilliant choice for the lady who wants to look fabulous on the beach. The flattering fit of the Bonmarche swimwear range means you'll be able to relax and enjoy your break knowing you're looking stylish and svelte. The Bonmarche swimwear range comes in a range of colours, styles and patterns. My absolute must have is the Bonmarche Spot Print Ladies Swimdress with Bow Detail, a timeless classic transcending all ages.
Supportive swimwear can make every difference; everybody remembers 'that' photo of Helen Mirren in the red bikini. Bonmarche have a fabulous range of bikinis, which can be worn with swim skirts, bikini shorts or bikini bottoms. Wear your bikini with a kaftan to embrace St Tropez style.
Don't forget your skin is just as important as your holiday wardrobe! I love the Bonmarche range of glamorous sun hats, perfect for the occasion whether you're sunbathing in your garden or on a sandy beach somewhere warm and luxurious. My top tip for the lady packing light is the Bonmarche Soft Straw Hat. Not only does it fold up for easy packing, it is also incredibly light.
Ladies Casual wear for the Summer
Ladies, dressing in casual wear doesn't mean you have to sacrifice your glamorous side. I personally love soft fabrics worn with denim, for example Ladies knitwear and denim for autumn winter; then t-shirts and blouses with denim for spring summer. Casual doesn't need to be fussy, the most memorable styles are the most simple. Think of Audrey Hepburn in Breakfast at Tiffany's.
I am also a firm believer in the power of monochrome. Whether you're lounging at home, at a wedding or dressing for an important date; black and white will make you look elegant, stylish and unforgettable.
A fabulous take on the monochrome look is a white blouse or t-shirt paired with black skirt or trousers. Plus size trousers at Bonmarche are available with an elasticated waist, so no need to worry about fussy waist detailing and gaping at the back. The elasticated detail means your jeans and trousers will fit perfectly, making you feel confident and carefree.
If you're a lady who loves colour, consider the plus size maxi dress. Maxi dresses are a carefree, feminine clothing choice and are easy to wear and accessorise. Be daring and try a maxi in a colour you secretly love but wouldn't dare to wear usually. Experimentation is the key to a truly fabulous wardrobe.
Plus Size Occasion wear and something a bit special
My favourite fashion moments are occasions where ladies can truly shine. I love dresses that make a statement. Buttons, patterns and a flowing cut can add impact to a style and turn an everyday outfit into something really special and unique. A corsage is a fabulous, budget friendly way to update your favourite dress, plus size jacket or top for any occasion and can be bought to co-ordinate. Pick fresh flowers for maximum effect.
I love Bonmarche dresses for occasion wear. I am a big fan of the longer dress and it can be worn to flatter the figure whether you're heading to a party, wedding or just a special night out. Again, monochrome is a classic choice that can never go wrong. I think all ladies look stunning in a black dress and I love cocktail plus size dress designs too. Remember, you can never be too over-dressed. Everybody remembers a lady who embraces her glamorous side.
I am also a massive fan of the trouser suit. Trousers and jackets can be worn separately and represent fantastic value for money. Pick a jacket in cream for ultimate wow factor. One of my favourite style icons Cilla Black, loves the trouser suit and always looks feminine and fabulous.
Have Fun with Accessories
Accessories really are the decoration on the cake. I love accessories and think that less is never more. If you love a particular necklace, bracelet or handbag don't be frightened to wear it with whatever you fancy. Scarves are a fantastic budget friendly way to add colour and excitement to your favourite outfit.
Remember, fashion is supposed to be fun and exciting, so enjoy it! Embrace your experimental side and try your favourite styles in different colours, patterns and fabrics. If you're wary of colour, try a subtle splash with different colour earrings or shoes. Life is too short not to have fun!
For more style tips and fabulous fashion guidance, head over to bonmarche.co.uk or Ideal World to check when Steve will next be sharing his style advice to home shoppers in the UK and beyond.
About Bonmarche
Bonmarché is the largest retailer catering for women aged 50 years plus in the United Kingdom. We pride ourselves on offering quality clothing with appropriate styling, great value and in a wide range of sizes.
The Bonmarché ladies fashion range includes casual and formal separates, outerwear, dresses, swimwear, lingerie, nightwear and accessories. Exclusive to Bonmarche are collections from couturier - David Emmanuel known for designing fabulous clothes for celebrities and the British Royal Family.
Find Bonmarché online at bonmarche.co.uk where you can shop online for your favourite women's clothing items and have them delivered to your home or collect in store at one of our 268 stores nationwide.