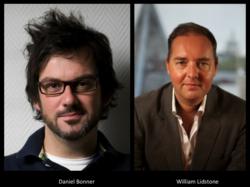 As the advertising world evolves, it's essentially to integrate creative, media, and technology - and Daniel and Willliam both embody this model.
London (PRWEB) September 07, 2011
Daniel Bonner and William Lidstone, key members of both the UK and European leadership teams at AKQA, have today joined Razorfish to lead the flourishing international business as Chief Creative Officer and Executive Vice President, respectively. Both are new positions and are based in London, reporting into Stephan Beringer, who oversees brand synergies for Razorfish and Digitas in Europe and the Asia Pacific region.
"I am very excited that Daniel and William have joined us," said Beringer. "They both are exceptionally talented professionals who will add enormous value and acceleration to our agency network."
Bonner and Lidstone join with over 22 years of helping grow AKQA into one of the world's most awarded digital shops. Bonner, a 14 year veteran of AKQA commented, "The decision to leave the agency was tremendously difficult for both William and me. But progress is inspired by change, and the opportunity to define a new era for an organization as innovative as Razorfish was an opportunity we had to seize."
"There are very few credible players in the marketplace that have the ability to deliver pioneering digital solutions at scale like Razorfish," Lidstone added. "You can see this benefit paying off with all of Razorfish's recent account acquisitions, and we're thrilled to be adding to that momentum."
"I'm looking forward to working with both of them on behalf of our clients to continue to transform their businesses," said Bob Lord, CEO of Razorfish. "As the advertising world evolves, it's essentially to integrate creative, media, and technology - and Daniel and William both embody this model."
About Razorfish
Razorfish creates experiences that build businesses. As one of the largest interactive marketing and technology companies in the world, Razorfish helps its clients build better brands by delivering business results through customer experiences. Razorfish combines the best thought leadership of the consulting world with the leading capabilities of the marketing services industry to support our clients' business needs, such as launching new products, repositioning a brand or participating in the social world. With a demonstrated commitment to innovation, Razorfish continues to cultivate our expertise in Social Influence Marketing, emerging media, creative design, analytics, technology and user experience. Razorfish has offices in markets across the United States, and in Australia, Brazil, China, France, Germany, Japan, Spain, Singapore and the United Kingdom. Clients include Carnival Cruise Lines, MillerCoors, Levi Strauss & Co., McDonald's and Starwood Hotels. With sister agencies Starcom MediaVest, ZenithOptimedia, Denuo and Digitas, Razorfish is part of Publicis Groupe's (Euronext Paris: FR0000130577) VivaKi, a global digital knowledge and resource center. Visit http://www.razorfish.com for more information. Follow Razorfish on Twitter at @razorfish.
###