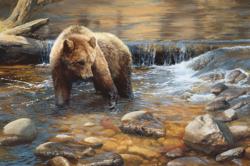 San Francisco Bay Area, CA (PRWEB) October 19, 2011
Well-known art gallery and custom conservation framing company World Wide Art, Inc. is pleased to announce the availability of "Fish Tales" by Bonnie Marris.
Bonnie Marris is known for her striking paintings of wildlife, and she takes pride in knowing her animal subjects from the "inside out." Her passion for nature is all too apparent in her latest work.
"This is another outstanding piece of art from Marris, whose scholarly attention to detail is on full display," said David Wilfong, spokesperson for World-Wide-Art.com. "This painter truly has a love for all things in nature, and we are happy to feature this piece on World-Wide-Art.com."
Marris' art career started by drawing images included in several hundred major science textbooks. Her detailed drawings for a leading mammalogy text caught the eye of the zoologist George Schaller, who helped launch Marris' career by asking her to create the art used on posters to promote his international animal relief efforts. Though her beginnings in the world of art were unconventional, there can be no doubt that Marris has become one of the most popular wildlife painters today.
In the work "Fish Tales," a large brown bear stands knee-deep in a coursing river, staring intently at a few red fish beneath the water's surface with one paw raised. The focus in the bear's eyes is unwavering as he stares at his circling prey, and the viewer can easily feel the tension in this moment that Marris has frozen in time.
Aside from the towering bear in the painting, there is no disturbance to the river, as all is quiet as the bear waits for the precise moment to strike. The roughness of the bear's thick fur and his gleaming black claws suspended in midair present a stark contrast to the tranquil river scene that surrounds him.
This moment is just a glimpse of many similar occasions in nature, but is remarkable nonetheless. Marris was inspired by her own experiences of watching grizzlies catch fish and was struck by how deeply they concentrate to track and corral their prey. Just like an artist, she says, these bears are focused on the task at hand and ignore everything else.
"'Fish Tales' is one of our favorites here at World Wide Art, and for good reason," Wilfong said. "It is just one of those pieces that's perfect for display anywhere in your home."
In addition to Marris' "Fish Tales" painting, World-Wide-Art.com offers countless other new releases, limited editions and honored collections by today's top artists. For more information, visit http://www.world-wide-art.com.
###