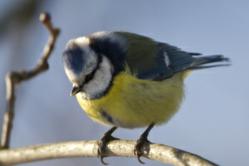 We cannot emphasise enough how important it is for everyone to do their part to feed and support birds this year
Nottingham (PRWEB UK) 16 January 2013
On January 8th the Met Office published the annual rainfall statistics on their website, demonstrating 2012 to be the second wettest year in UK history. In certain areas around the UK, the wettest summers in one hundred years were experienced, leading to the flooding currently experienced nationwide.
The wetter weather plaguing the summer of 2012 had a serious effect on the breeding cycles of many birds, particularly the Swift. The heavy rainfall reduced the number of aerial insects, the Swift's primary food source. Many Swifts were left abandoning their young mere days after hatching due to lack of food to feed them, a usually unheard of occurrence given the naturally occurring maternal instinct present in birds.
Bonnington Plastics, a wholesaler of garden, home and animal products, is encouraging the public to feed birds this year, providing an easy food source for all species. A Customer Liaison Representative added, "at Bonnington Plastics we're passionate about birds, they're essential to ecosystems around the world. We have a range of different bird feeds and feeders for retailers to stock, and cannot emphasize enough how important it is for everyone to do their part to feed and support birds this year."
Swifts weren't the only species of bird to feel the effects of an abnormally wet year. The Blue Tit experienced a tough breeding season due to their food source, caterpillars, simply being washed from trees and out of sight. Fortunately Blue Tits make regular visits to bird feeders around the UK, though more are needed to support their numbers in the future.
Bonnington Plastics is an online wholesaler of home, garden and animal products. They have a wide range of different goods ranging from suet balls to snow shovels. Their bird feed and suet balls are nutritious and beneficial to birds, and their bird feeders will help provide birds with nutrition even when the weather removes their natural food sources.