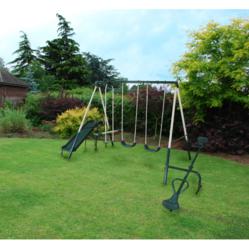 We're recommending that parents buy their children a play set for Christmas, particularly if they have more than one.
Nottingham (PRWEB UK) 27 November 2012
Bonnington Plastics, a UK wholesaler discuss why play sets are great Christmas presents for children.
Christmas is fast approaching and parents are frantically searching for the right present to get their children before the shops run out of stock. Many parents will have an easier time buying presents, since children tend to be less picky about the presents they receive, as long as they have a satisfying 'Christmas Pile'.
The Telegraph recently reported that the Mothers' Union charity is urging parents to ban Christmas lists, as research has proven they increase the cost of Christmas for a family. The report showed 84% of parents bought their children extra Christmas presents as their 'Christmas Pile' didn't look big enough when compared to their list. Furthermore, 72% of parents purchased bigger gifts to increase the size of their child's 'Christmas Pile' with 46% of all parents taking out a loan or finding themselves in financial difficulty as a result of trying to please their children at Christmas.
The BBC studied Christmas spending and found that families spend about £682 on Christmas presents, food and decorations. Already a daunting number, it only grows with each child a family has.
A Customer Service Representative from Bonnington Plastics importers commented, "Christmas is only getting more expensive as more products are released. The problem with these products is that they keep children indoors. We're recommending that parents buy their children a play set for Christmas, particularly if they have more than one. Play sets get children outside having fun and exercising at the same time. Even something like a trampoline can provide children with endless exercise and make parents feel better about the presents they're buying."
As of October the UK has only just emerged from recession, and families are still feeling a heavy strain on their finances. Instead of purchasing presents for each child individually, families can save money by purchasing a play set which is fun for the whole family, and will keep children entertained for many years, rather than just the Christmas period.
Bonnington Plastics are UK wholesalers which provide to retailers all around the country. They have a wide range of products, but are best-known for the Kingfisher product ranges, for which they manufacture products suited to a range of different markets.