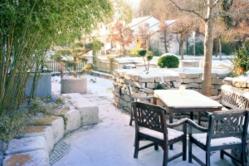 With a little investment, winter is the best time to experiment with garden structure
Nottingham (PRWEB UK) 16 January 2013
Many see the winter as a time to relax indoors, cutting back on the garden work to instead enjoy the warmth. However the winter season is actually an excellent time to get outside and start a number of important garden tasks, such as pruning, turning soil, weed control and restructuring. With trees and plants lying dead or dormant it's easy to relocate focal points, plan new screening areas and decorate.
Winter is the perfect time to start preparing your garden aesthetically for the New Year. With this in mind Bonnington Plastics, a Nottingham-based wholesaler of gardening decorations and accessories, have released a tip sheet for their customers seeking to improve their gardens over winter.
Lawn Edging
Lawn edging is ideal for restructuring walkways and entry routes through a garden, in line with any new visual centrepieces planned for the new season of growth. Restructuring lawns while the soil is still moist though not soggy or frozen is a satisfying process. Bamboo edging provides an attractive and natural-feeling border for installation of a new raised bed, or for added ease consumers can simply buy a ready-constructed bed.
Screening
For gardeners seeking to drastically change the structure of their winter garden without actually moving the planted environment, bamboo screening is popular. Gardeners are able to wall off unattractive deciduous trees and focus the eye on winter growth, while unlike hedging individuals are able to remove the screen at will later in the year.
For a more organic solution, planting an evergreen hedge will not only provide permanent screening, but create housing for mammals and birds.
Tree Planting
Trees are in a low-energy dormant state during winter, allowing them to slowly adjust to a change in surroundings without much shock. While the ground is moist, but not waterlogged or frozen, trees can be easily planted in the winter soil. A winter planting will leave the tree well-established by spring, when it can begin to grow in full.
Garden Decorations
The garden being in a naturally sparse state creates an opportunity to introduce non-organic decoration. Statuettes and wall clocks can introduce new classical aesthetics to a garden, juxtaposing the overtly man-made with the natural. Solar-powered lighting is especially relevant in the dark winter months, and can be be installed unobtrusively while still allowing a lot of creativity in shadowing and structure.
A customer service representative from Bonnington Plastics commented on their advice. "With a little investment of time and money, winter represents the best time to try out other options in structuring gardens, and possibly achieve a different feel for the next year, whether they're moving entire features or simply trying to screen their creation a little differently. By issuing information to our customers we hope to see them get more value from our products, and achieve any goals they set for themselves."
Bonnington Plastics are a Nottingham wholesaler of gardening equipment, clothing and accessories, and have been supplying retailers nationwide since their creation in 1967.