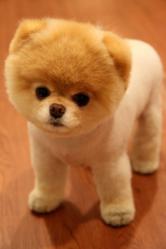 Dogington Post doesn't care that Boo's owner works for Facebook. What fame-seeking person (or dog) wouldn't use their connections to get noticed?
Boca Raton, FL (PRWEB) August 14, 2012
Boo, the 6-year-old Pomeranian, is the self-proclaimed "World's Cutest Dog." His fame and popularity were called into question when Mike Isaac of All Things D broke the story that Boo's owner, Irene Ahn, is actually a Facebook employee in a leading position in the company's finance department.
Ahn started a Facebook page for Boo in 2009 and the little pup became something of an internet sensation as celebrities began to take notice of him. Pop singer, Ke$ha tweeted that Boo was her new boyfriend and Khloe Kardashian posted a picture of him on her blog and wrote, "OMG, I just discovered this dog named Boo on facebook and I am seriously in LOVE. I obviously had to share the amazingness with all of you LOL. If you're on facebook, go like this page because it's beyond cute! I want this dog!!!"
With Boo's celebrity nods, came his meteoric rise to super-stardom. He made an appearance on Good Morning America and the adorable little pup got a book deal through Chronicle Books.
There's no denying Boo is a cute dog. However, some are questioning Boo's rise to fame, saying Facebook is behind it all because his owner works there, and because she has stayed behind the scenes.
"Curious, isn't it, that Mr. Dog boasts close to 5 million fans on Facebook, where his owner's boss is banking on that kind of user engagement?" writes Jessica Roy on Betabeat. "And with a powerful parent like that, he surely didn't earn those fans through sheer cuteness alone."
Roy raises the question, "How are other dogs without high-powered connections expected to get a paw in the door of internet fame when others are fed such an unfair advantage, privilege and influence sprinkled before them like so many raw, organic treats?" and further writes that Boo's fame was never fairly earned.
The editors at Dogington Post are appalled by the allegations that a Facebook scandal is the only reason for Boo's immense popularity. "There's no denying that Boo is an adorable dog," says Brooke Arnold, contributor for the popular dog news site. "We don't care that his owner works for the site that helped him gain popularity. Nothing changes the fact that he's cute and that millions of people love him. What fame-seeking person (or dog) wouldn't use their connections to get noticed?"
Dogington Post reaches over 1.6 million dog lovers every week. The dog news site wants its readers to support Boo, despite claims of Facebook nepotism. In support of the World's Cutest Dog, the site published articles about Boo along with links to his book, "Boo: The Life of the World's Cutest Dog" and the stuffed animal created to his likeness. The site publishes news and stories about many famous dogs, in an effort to promote dog welfare.
For more information about Dogington Post and their effort to support Boo, visit http://dogingtonpost.com and check them out on YouTube.
About Dogington Post:
DogingtonPost.com was created for the love of dogs. It promises a forum of informative articles, newsworthy dog stories, health and breed information, and heartwarming videos. The site addresses current issues affecting dogs and their human parents – from serious health concerns to lifestyle issues on feeding, grooming and the overall well-being and mental health of dogs. It is the Internet newspaper, all about dogs.