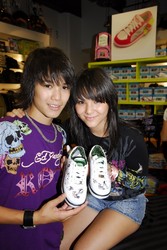 I immediately clicked with the Graffeeti sneakers because I have always been a doodler
Los Angeles, CA (Vocus) September 3, 2009
Graffeeti Inc., the maker of the novel ReMARKable® write-on sneakers, announced today that the Northern California based company will go into production with its signature Booboo Stewart girls Sneaker collection for Fall 2009 delivery. Seeing to fruition an endorsement and publicity commitment inked in 2008, the multi-talented 15 year old, now slated to play the role of Seth Clearwater in the upcoming feature The Twighlight Saga: Eclipse, lent his creative hand to the design of new signature Booboo Stewart sneakers for both girls and boys. Graffeeti will also leave open the option for Booboo to design other signature Graffeeti products, like backpacks, that also employ the company's novel write-on panels.
"I immediately clicked with the Graffeeti sneakers because I have always been a doodler," commented Booboo Stewart. "I was like, wow, you can just wipe it off and keep doodling? I'm a Graffeeti natural for sure, and I also really like the company's commitment to giving back. That's important to me. We're a perfect pair."
"Like anyone who comes in contact with Booboo for the first time, you can't help but smile at the exuberant teen's continuous creative outflow," said Graffeeti co-owner Kelye McKinney. "We really liked his positive, fun energy and charitable commitment as well. If he's not playing guitar, dancing, singing or taking out squads of evil doers with his world class mastery of Karate, he is helping us to improve every detail of his signature shoe. This young man's incredible commitment to excellence in everything that he does has definitely led him to this pivotal point in his career. We applaud the recent news about Booboo's upcoming movie role. He's an ideal spokesman for our brand."
At age 15, Booboo Stewart is an accomplished actor, singer, dancer, gymnast, stunt kid and model (Guess and H&M to name two). As an actor, he had a recurring role on Everybody Hates Chris, was the body/stunt animation double for the Beowulf character in the hit feature Beowulf, stars opposite Val Kilmer in the upcoming indie feature American Cowslip, and as a former Disney recording artist, toured with his Disney group T-Squad opening for the Cheetah Girls, Miley Cyrus, and the Jonas Brothers just to name a few. Booboo also signed an exclusive artist contract with Gibson Guitars, and if that is not enough... he is a two time World Karate Champion and straight A student who gives his time to charities such as A Place Called Home, The Los Angeles Mission, Athletes and Entertainers for Kids and Make A Wish Foundation.
About Graffeeti
Based in Rocklin, CA, Graffeeti Inc. introduced its first Re-Markable sneaker in 2007 to enthusiastic industry and media acclaim. The novel integration of dry-erase panels into sneakers and now backpacks allows kids to get creative and let their unique personalities shine through. Because they're dry-eraseable, kids, tweens and teens can write, draw, erase and rewrite with five colored dry-erase pens that come with every Graffeeti sneaker and backpack including their popular Anthem line of sneakers.
For more information about Graffeeti Inc. please contact Bill Schlueter at LaunchPad PR. graffeeti (at) launchpadpr (dot) com or 310 397-4321. Also see http://www.graffeeti.com.
###