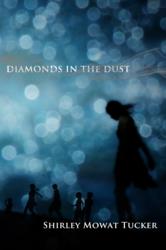 Shirley Tucker is a Christian author who does more than write about social ills.
(PRWEB) November 18, 2012
Behind most authors is a story that inspires the words of the novel. Shirley Mowat Tucker is no different.
Tucker, a native of South Africa, wrote her novel, "Diamonds in the Dust," surrounded by the harsh reality of life in her homeland, such as sex trafficking, poverty, and AIDS. The story's main character, Ida Morgan, experiences horrendous heartbreak when her husband is murdered. The event leaves Morgan with feelings of emptiness and abandonment from God. Ida's road to healing and wholeness is paved by "diamonds in the dust." The widow finds herself struggling against corruption at the highest levels while contending for people who live at the lowest depths.
The 2011 winner of the inaugural Anthanatos Christian Ministries Christian Novel Contest is more than a detail of her life experiences as a South African. It is the starting point for a number of talking points for a diverse group of readers. The themes of Tucker's book are ideal for informative discussions which take place in book clubs, library groups, and reading groups at churches.
For deeper discussions, the publisher recently released a study guide invigorate group discussions and challenge readers to connect with the author's story on a deeper level. The guide puts readers on the pace to discuss the issues Tucker addresses in the novel. They are: Authority, Vocation, Prayer, Mercy and Justice, and Friendship.
The discussion guide is organized with facilitators in mind. The first section contains a number of 'overview questions' that span the entirety of the book. After that, are questions organized topically that help the reader see how important issues are threaded throughout the book.
Shirley Tucker is a Christian author who does more than write about social ills. She and her husband, Mark, founded the Phakamani Foundation to distribute micro-loans to enterprising, but poor, women in South Africa.
"The Diamonds in The Dust" is one of several titles available for purchase on Smashwords. Visit the publisher page for additional works.