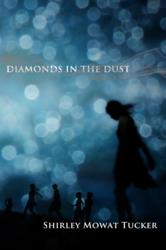 (PRWEB) October 10, 2012
Shirley Tucker is an internationally known award-winning author who has literally ranged across the globe and has the life experiences to show it. However, it is life in modern day South Africa, her native land, that unfolds in this 2011 book. From rampant poverty to sex trafficking to the sheer despair that comes from losing a loved one to a vicious murderer, "Diamonds in the Dust" runs the gamut of emotions as it dives into one complex subject after another.
The publisher believes that Mrs. Tucker's book is perfect for book clubs, library groups, and reading groups at churches because it covers such a wide range of important topics. However, because of the sheer number of them and the discussion each warrants, the study guide was produced by the publisher to help readers notice some of the finer points and give them their due consideration.
The discussion guide is organized with facilitators in mind. The first section contains a number of 'overview questions' that span the entirety of the book. After that, are questions organized topically that help the reader see how important issues are threaded throughout the book. The topics are: Authority, Vocation, Prayer, Mercy and Justice, and Friendship.
Shirley and her husband, Mark founded the Phakamani Foundation to distribute micro-loans to enterprising, but poor, women in South Africa.
A core theme of "Diamonds in the Dust" is that people can make a difference even in the face of great odds. In this book, a widow finds herself struggling against corruption at the highest levels while contending for people who live at the lowest depths; it is these latter people who are the 'diamonds in the dust.'
In honor of the release of their new study guide, ACM has announced that the book can be purchased at 50% off from Smashwords using the following coupon: NA56U. The coupon expires on October 15th, 2012.
The reader's guide is also available from Smashwords, but of course is free and requires no coupon. The book is available in both print and digital editions on Amazon.com and directly from the publisher, with bulk discounts available for book clubs.