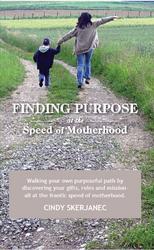 In the craziness of motherhood, while we're busy raising happy and loving children, growing our marriages, building careers and trying to maintain an orderly house – whatever that means – somehow we lose our sense of purpose.
Denver, CO (PRWEB) April 12, 2011
Motherhood is a juggling act, and it's easy to lose sight of your purpose in life. A new book will help you find it. In Finding Purpose at the Speed of Motherhood, author Cindy Skerjanec takes busy moms on an introspective journey to discover their gifts, roles and mission – all at the frantic speed of motherhood. The book will be available on Amazon.com beginning April 26, just in time for Mother's Day.
"Throughout my own years of going through the trials and tribulations of motherhood, I've discovered a way to live more purposefully, and I realized it was something I needed to share with others," explains Skejanec. Her insightful, Christian-focused book takes mothers on a personal journey, providing a thoughtful guide on getting to the place where they are able to name their purpose and live a more purposeful life, despite the stresses and demands of motherhood.
Today's mothers are "extreme multi-taskers", and it's easy to lose one's sense of self. This book provides thought-provoking questions that allow women to uncover their true purpose while discovering their own personal magnificence in the grand scheme of God's plan. It's perfect for book clubs and church groups who wish to work through their own self-excavation plan alongside a supportive group of women.
"God knew my path long before I knew that I had one, and he whispered to me to write it all down. In this book, you'll learn how to uncover your own purpose, giving glory to God through it all, so you can walk your own magnificent path daily," says Skerjanec.
For more information, to order discounted books for book clubs or church groups, or to find out about workshops near you, visit http://www.momsfindingpurpose.com. Or, visit http://www.Amazon.com beginning April 26.
Finding Purpose at the Speed of Motherhood, by Cindy Skerjanec
Paperback; $15.95; 218 pages; 978-1-4609-9918-9
###