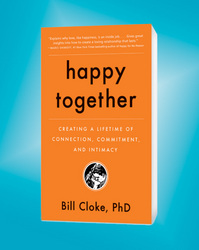 Happy Together explains why love, like happiness, is an inside job. Dr. Bill Cloke gives great insights into how to create a loving relationship that lasts
Los Angeles, CA (PRWEB) February 10, 2011
Couples who constantly fight may think their relationship is doomed. But Dr. Bill Cloke, has good news for them. He says a good fight could save their relationship.
Dr. Cloke, a couple's therapist for the last 30 years and author of the brand new book Happy Together: Creating a Lifetime of Connection, Commitment and Intimacy, pinpoints the issues and actions that can make or break our relationships. Step by step, it will show you:
● How to identify & overcome personal barriers to meaningful & satisfying connections
● The defensive ways we unknowingly kill love & how to learn from conflict to create deeper intimacy
● The role of passion & sexuality in our relationships
● How to understand & deal with issues of shame & rage that can impact our ability to love
● Why deeply held myths about family, marriage & idealized romance can create expectations that damage our connection with each other
● How to become partners in problem-solving
● How to effectively use the tools of compassionate communication & "constructive complaining."
Rich with practical tips and techniques, including sample dialogues to help you make meaningful changes, Happy Together will guide you in perfecting the skills you need to create a positive vision for your relationship and a road map for happiness.
ABOUT THE AUTHOR
Dr. Bill Cloke has been a couples' therapist for 30 years. His passion is to help both individuals and couples lead more fulfilling lives and relationships by learning essential relationship skills. He received a master's degree in education from the University of Southern California and holds a PhD in psychology from California Graduate Institute. A frequent talk-radio psychologist, he is also a contributor to PsychologyToday.com and other popular websites and has lectured at UCLA. Bill Cloke lives with his wife in Los Angeles, where he works with couples, families, and children from a cross-section of cultures. To learn more about Bill Cloke, and for more resources on creating healthy, happy relationships, visit
http://www.happytogetherbook.com
HAPPY TOGETHER: CREATING A LIFETIME OF CONNECTION, COMMITMENT AND INTIMACY
by Dr. Bill Cloke
Published by Pacific Highlands Press
240 pp $14.95
5.5 X 8.5 in.
ISBN: 978-0-9829324-1-4
Available to booksellers through SCB Distributors and all major wholesalers
###