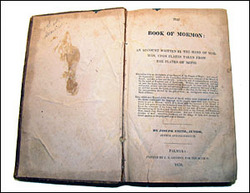 Geneva, NY (PRWEB) September 13, 2007
Hessney Auction Company of Geneva, NY recently discovered a rare first edition 1830 Book of Mormon by Joseph Smith Jr., while cleaning out a Wayne County estate near Palmyra and Fayette, NY, "The Cradle of Restoration". The rare Book of Mormon book will be featured in a Wednesday, September 19th combined estate auction beginning at 10:00 am at the Hessney Auction Center.
The first edition was printed in 1830 by Joseph Smith Jr., the founder of the Mormon religion. The book is in good unrestored condition with original binding. While there were 5000 copies originally published, there are only hundreds known to still exist. Copies of this rare book change hands only a few times a year.
Hessney Auction Company was founded in 1981 by Joseph D. Hessney, (CAI) Auctioneer and Appraiser. Hessney Auction Company auctions all types of real and personal property, including estates, antiques, households, restaurants, commercial liquidations, and vehicles.
More information, including detailed description and photos of the Book of Mormon, is available at http://www.hessney.com or by contacting the Hessney Auction Company Manager, Mark Witmer at (315) 789-9349.
###