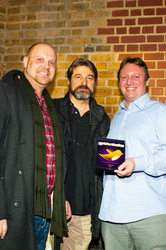 Publishing is a battleground… it is vital that authors control access to their readers & Twitter can help
London, UK (PRWEB) December 11, 2009
The oldest social community on the net for writers, Litopia Writers' Colony, has won the newest prize for the web's latest medium - the 140-character microblogging service Twitter. Sponsored by media magazine The Drum, The Golden Twit award was accepted by Litopia's chief twitterer, Jamie Mollart, and Litopia's founder, Peter Cox, at a ceremony in London last night (see photo).
"Social media is about communication," said Jamie, "and as writers, communication is incredibly important to us. The Litopia Twitter feed is about sharing information that will help writers, so to be recognized for this is fantastic."
"The publishing world is going through seismic upheaval at the moment", said Peter, who is also a literary agent with Redhammer Management. "It is the last major media industry to be hit by the digital tsunami. Litopia educates writers about the digital future. Twitter is a vital tool for them."
Peter believes that Twitter has many uses for writers. "You can quickly build a huge following with Twitter", he says. "Publishing is a battleground at the moment, and the biggest struggle is over who controls access to the readership. Will it be publishers, as they traditionally did? Or authors? Or some third party such as Amazon or Google? We teach authors how vital it is to control access their own readers and fans."
Litopia has rapidly built a following of over 4000 writers on Twitter. "What we've done, any author can do", Peter says. "We Tweet about half a dozen times a day - people love them because they're so useful."
But that's not the only use for Twitter in the author's armory. "You can connect with the top people in the publishing industry", says Peter - "they're just one click away. You can keep up with insider gossip. You can use it to find experts for your research. You can create virtual events, like a Twitter contest. But mostly, you can harness Twitter's multiplier effect to skyrocket your fan base: when one reader reTweets your original post, you can quickly reach hundred or even thousands of new readers within minutes. That's how powerful it can be."
Litopia Writers' Colony is a free community to join. It produces the world's first daily podcast for writers, Litopia Daily, and counts many bestselling authors amongst its membership.
# # #