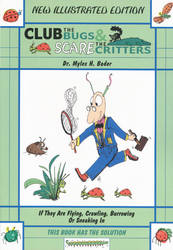 Club the Bugs and Scare the Critters
(Vocus) April 7, 2009
Cheyenne, WY - A Maverick Marketing and Publishing team who has enjoyed success in the self-publishing arena is now moving to help new and budding authors turn their books into successful financial enterprises. They will be offering marketing and self-publishing consulting services. Their small enterprise has enjoyed success to the tune of 4.5 million book sold.
J.Michael Palka and Dr. Myles H. Bader founders of MyPal Publishing, LLC, (http://www.mypalpublishing.com) a Wyoming, LLC hit 4.5 million of their own self-published books sold. After reaching this goal they have decided to invest time in helping new authors or people with an idea for a book launch their new self published book.
J.Michael Palka the marketing genius behind MyPal Publishing has this to say, "It has been a fun and profitable journey. We will continue to market our books using modern offline and online marketing strategies and tactics." He went on to further state, "It's time we shared our knowledge with other budding authors. Success is a matter of knowledge and wisdom and there is a price to pay for it. We have paid our dues and hope to help entrepreneurial authors save a lot of time and money with their new venture."
Dr. Myles H. Bader, the research and writing maverick of the team has this to say, "There is a lot of work in authoring and marketing your own books. But it beats the alternative of spending sometimes years attempting to sell your book to a publisher who may never do anything with it, as is the case in most deals." Dr. Bader also stated, "Self-publishing can be a financially rewarding career or hobby, if you do it right and get expert mentoring, which is what we have decided to provide."
Palka has booked Bader on over 6,500 radio talk shows and 200 TV talk shows, including Oprah, Fox and Friends and dozens of other National TV shows.
In one year, their book, "Club the Bugs and Scare the Critters" beat out Kevin Trudeau, the self-publishing guru in books sold through infomercials.
A couple of their best selling titles include:
"The Encyclopedia of Kitchen and Cooking Secrets", an 840 page, 3.5 pound best seller (2.5 million sold) that has everything anyone would ever want to know about cooking, food or the kitchen. (http://www.mypalpublishing.com) Loaded with secrets from famous chef's from around the world, nutritional information and some of the most unusual and useful uses for food. A must have for every kitchen in the world.
For information on other best selling books by the Duo, like "Grandpa's 5001 Handyman Secrets", "2001 Garden and Lawn Secrets" and more go to http://www.mypalpublishing.com.
There is even a free $149 value offer there when you can receive a special CD loaded with information about household, lifestyle, recipes and more.
Persons interested in acquiring help in writing, publishing or marketing their book or book idea can go to http://www.mypalpublishing.com and give Mr. Palka a call for a free consultation.
contact:
J.Michael Palka
619-977-5022
###