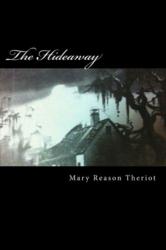 People are calling it a 'Southern-Fried Murder' Mary R. Theriot's "The Hideaway" is a Spine-Tingling Thriller, and is the reason I'm so motivated and have just completed my 7th book in the series.
New Orleans, LA (PRWEB) August 20, 2012
Hope, Louisiana is a quiet, sleepy little town surrounded by bayous and the comfort of knowing who your neighbors are. All of that is about to change, however, when the mutilated body of a missing young woman Is found by the side of the road.
Detective Jordan Sanders is called to the scene, and grimly realizes that this might not be the first or last body they find. Beautiful, tough and determined to make Sheriff, Detective Sanders is driven to catch the killer and lock him up before he can kill again. With no leads and the investigation hitting a dead end, the Hope police department knows they have to call in the FBI before they can bring the killer to justice.
Agent Alex Hamilton is sent to Hope to find a killer. When he arrives, he is startled to find the gorgeous Detective Sanders instead. When he realizes that the murderer might just have Sanders in his sight, Agent Hamilton knows he has to catch the killer before he can catch Detective Sanders, and the hunt truly begins.
Set in the dark, still waters of the Louisiana bayou, The Hideaway is a nail-biting, spine-tingling romance thriller that will have readers furiously turning pages to reach the gripping conclusion. With a talent for building terror and suspense with each chapter, Mary R. Theriot has brought readers a fantastic new murder mystery, now available on eBook for readers everywhere.
Mary Reason Theriot
Louisiana-native, Mary Reason Theriot has lived in various states with her husband's United States Coast Guard career. Until being diagnosed with Multiple Sclerosis in 2001, she worked in the legal field. Encouraged to write by her youngest child, she calls writing "great therapy for my own personal fight against MS." The Hideway is her debut novel.
Follow Mary Reason Theriot on Twitter @Mktheriot.
Read Mary Reason Theriot's blog at http://maryreasontheriot.me/.
View Mary Reason Theriot's YouTube channel at http://youtu.be/3jcg0etFOLo.