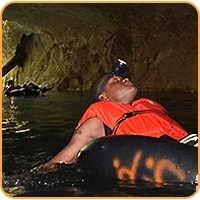 Get Out There
Huntington Station, NY (PRWEB) October 28, 2010
Ecological Tours & Services is the source for the best of Belizean adventures and is pleased to announce a new web site BookBelizeTours.com specializing in cruise passenger shore excursions. As a local tour operator, BookBelizeTours.com is able to offer a more private and personalized tour. Avoid the herds of people when traveling with BookBelizeTours.com. Trips include unique cruise excursions, Belize City Shore Trips and extended vacations. Jump into a popular cave tubing adventure or a snorkeling trip at the 2nd largest barrier reef in the world. Get close to nature while snorkeling at Shark Ray Alley. BookBelizeTours.com is the best choice for independent shore excursions and extended adventure vacations in Belize.
Since 1998 Ecological Tours & Services has been guiding thousands of people on adventure tours throughout Belize.
Ecological Tours & Services is one of a select few that have an office right on the pier. Just steps from where ship's tenders drop passengers. Our guides are trained and licensed by the Belize Tourism Board and operation are accredited by the Caribbean Tourism Organization (CTO).
Our cruise excursions department has customized tours exclusively to fit cruise ship times and ports. Pay 30% to 50% less than booking on the cruise ships and receive a more private and customized tour. Tours do not have the crowds normally seen when booking through the cruise ships. Take a tour with BookBelizeTours.com and make family memories to talk about for years to come.
Here are just a few of the most popular tours.
Cave Tubing and Zipline Adventure
Once the entrance to the underground cave system is reached there will be time to experience a breathtaking 15' cliff dive, after which a guide will hand out miner's lamps and cave tubes. The gentle currents will take adventurers cave tubing through the cave system. Intricate crystalline formations line the cave and the majestic rise and fall of stalagmites and stalactites add to the serene opulence of nature.
Experience Belize's jungle on a thrilling zipline adventure. This excursion will enable travelers to see and appreciate the beauty of Belize's wild side.
Shark- Ray Alley is a shallow cut to the south of Hol Chan where nurse sharks and sting rays congregate. Guides sometimes chum to attract the sharks, and snorkelers can jump in and swim with them. It's not half as scary as it sounds, and most of the people who come on the snorkel boats do get in the water here. This is a truly unforgettable adventure.
On this scenic waterway, see crocodiles, howler monkeys, iguanas, and lots of birds. Lush tropical foliage lines this waterway. Disembark at Burrell Boom, a community which was once a logging camp, for shopping, refreshments and a locally prepared lunch.
Altun-Ha (Maya for Stone Water) thrived as a trading post to the Maya World during the Post Classic and Classic periods. This was home to the largest carved Jade Head depicting the Sun God "Kinich Ahau". Weighing in at almost nine pounds, this has been Belize's most valuable find. After this travel back to Belize City for the other half of the tour. See historical sites such as the Redbrick St. John's Cathedral, where Kings from the Mosquito Coast were crowned and the colonial mansion once occupied by British Governors.
Come and enjoy the very best that Belize has to offer. The natural wonders and the beauty of the country will create memories travelers will cherish for a lifetime.
###