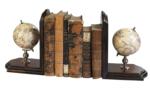 (PRWEB) September 30, 2012
In preparation for the coming holiday season, WorldToHome.com has added well over a thousand new unique home decor products to its already extensive website. One of the more hotly anticipated categories, Brass Nautical Clocks & Compasses, has a huge variety of quality unique nautical giftware. These decorations are perfect for boat lovers and nautical buffs. Perfect for decorating offices, bedrooms and living rooms, these nautical themed gifts are sure to please for birthdays or other special occasions.
WorldToHome.com is proud to offer a wide range of unique bookends that are sure to make your home or office more unique. Constructed of the finest quality materials, ranging from brass and bronze to stainless steel and hand carved wood, these bookends will not only serve a practical purpose but will provide a unique style to your bookcase. No home is complete without a fine bookend or two to prop up your precious volumes.
Flasks harken back to a time of prohibition, where alcohol was illegal and it had to be carried discreetly. Now, flasks are a more personal item, as unique as any wallet or watch. WorldToHome.com offers the very best in quality and design with its new line of stainless steel flasks and flask accessories. There's a flask for every man and woman, and these are among the finest to be found. Made of stainless steel and a variety of other fine materials, such as tooled leather, these flasks are guaranteed to last.
In addition to fine steel flasks, WorldToHome.com now offers luxurious cigar accessories. A wide variety of high quality cigar accessories; humidors to combination flasks and cigar holders are not available. Each humidor is handcrafted from the finest cedar available, beautifully decorated to stand out. Each is equipped with a hygrometer and humidistat for maximum maintenance of all cigars. Excellent cigar cutters are also available in a plethora of designs: punch cutters, guillotines and angle cutters to name a few.
About World To Home.com:
WorldToHome.com is the premier retailer of fine luxury home decor accents, accessories and furniture. With thousands of unique home decor accessories, World To Home brings the worlds home decor products to your doorstep. Featured products include Mova Globe, lighted branches, reproduction antique phones for sale, metal wine bottle wine caddies, birdhouse mansions, and more. For more information visit WorldToHome.com.