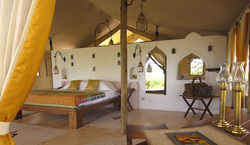 We really wanted to create a platform that our clients could use to start putting together their perfect trips, from simple hotel and tour bookings to completely customized itineraries
Encinitas, CA (PRWEB) May 18, 2010
Global Basecamps (globalbasecamps.com) is proud to announce the public release of an exciting new website designed to simplify the process of researching and booking the world's best sustainable hotels, lodges and multi-day excursions. The launch of the new website is the first step in the company's long-term vision of creating a true resource for independent travelers looking for a way to enhance their worldwide journeys while traveling in a low-impact and earth-friendly way.
"Although sustainable travel has received a considerable amount of press recently," says Global Basecamps President Gregor Gomory, "the reality is that it can still be very difficult for travelers who don't want to join a group tour to find eco-sensitive lodging and tour options for their upcoming adventures. The launch of our new site brings us one step closer to truly simplifying the act of researching and booking sustainable options for every destination and budget."
The new site was created in-house and is as much a statement of purpose as a catalogue of the world's best sustainable travel products. "One of our core goals is to maximize travelers' experiences while minimizing their commitments," says Vice President of Technology Sebastian Riedel, "so we really wanted to create a platform that our clients could use to start putting together their perfect trips, from simple hotel and tour bookings to completely customized itineraries. We've started by promoting sustainable options for some of our most popular destinations and tours and will be adding new tools and resources in the coming months."
In addition to bringing destination suggestions and product options online, Global Basecamps also has a dedicated team of international travel specialists ready to assist with the creation of even the most complicated itineraries worldwide. "As fantastic as technology is for the delivery of travel information," continues Riedel, "the knowledge and expertise of our sales team really can't be underestimated when putting together an itinerary." Whether planning to hike the Inca Trail, explore the unspoilt wilderness of Tanzania, or simply book one of our unique lodging options, independent travelers are invited to call, (866) 577-2462, to speak to a specialist or to visit the website and submit a request for more information.
Global Basecamps is a specialty travel resource designed to simplify the process of researching and booking sustainable hotels, lodges and private tours worldwide. Allowing independent travelers to journey at their own pace and ensuring trip priorities are met while keeping maximum flexibility on the road, Global Basecamps truly makes exploration easy.
MEDIA CONTACT:
Kelley Diaz, Global Basecamps, (866) 577-2462, kelley (at) globalbasecamps (dot) com
###