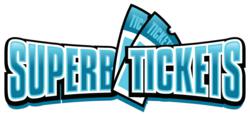 SuperbTicketsOnline.com reports swift sales of Book of Mormon tickets at San Francisco's Curran Theatre.
Milwaukee, WI (PRWEB) December 18, 2012
Broadway's Book of Mormon tickets have been wildly popular in New York City, but until a few weeks ago, theater fans had to make the trip to the Big Apple to see this irreverent musical. Fortunately, the Curran Theatre in San Francisco recently opened its doors for the first Book of Mormon production outside of the Great White Way.
Critics and audience members alike have raved about this production of the Tony award-winning musical, and the opening night was a display of the city's finest citizens. Mayor Edwin M. Lee led the way, while other San Francisco dignitaries like Tom Waits and Willie Brown had seats in the packed house as well. San Francisco Symphony director Michael Tilson Thomas and Metallica's Lars Ulrich, two unlikely friends, were spotted in the audience chatting and laughing ahead of the show.
There are always worries that the quality of a show won't translate from its original incarnation on Broadway, but in this case, this parody's humor continues to have people rolling in the aisles. Trey Stone and Matt Parker's story of a Mormon missionary, Elder Cunningham, and his misadventures in Uganda. Musical parodies can be dangerous to take on the road; humor in one part of the country can be rejected in a different city. The audiences in the City by the Bay, however, embraced the musical warmly, giving the cast a standing ovation at the end of the night.
It isn't just the general public giving the show great reviews. Critics have been quick to lavish praise on this touring cast, calling their performances spirited, comic, and brilliant. The two leads, Jared Gertner and Gavin Creel, have garnered the most accolades, a significant achievement when taking over iconic roles from an iconic production. The reviews have stirred up great excitement with their enthusiastic praise, and the show has managed to sell out over half of its run. Tickets are sold out or scarce through the end of the show's run next June.
SuperbTicketsOnline.com is pleased to offer San Francisco Book of Mormon tickets for seats at the Curran Theatre. For theater lovers, they also feature Jersey Boys tickets and Les Miserables tickets, perfect for the holidays.