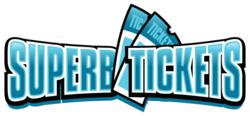 Theater buffs can obtain their seats online in complete confidence.
Milwaukee, WI (PRWEB) January 23, 2013
The Eugene O'Neill Theatre has been showing the hilarious musical since its 2011 debut. There will be additional Broadway showings until January of next year and most likely beyond that time. Mature audiences have been thoroughly enjoying the levity of the show since its first appearance on stage. SuperbTicketsOnline.com has numerous tickets for theatergoers to pick up, and all transactions are protected with a buyer guarantee.
The religious satire was created by the same gentlemen who developed South Park, namely Matt Stone and Trey Parker. Robert Lopez, who co-wrote the music for Avenue Q, also collaborated with Stone and Parker to compose the musical score for the very popular production. The score actually won a Grammy for Best Musical Theater Album and reached the third position on Billboard charts, making it the highest on the charts for a cast album pertaining to a Broadway show in over forty years.
Besides continuing to run on Broadway, the musical will also be making the rounds in a number of theaters across the United States. At the current time, it is appearing in the following cities: Baltimore, Boston, Buffalo, Chicago, Cleveland, Des Moines, Detroit, Minneapolis, Pittsburgh, Rochester, San Antonio, St. Louis, and Washington, D.C. Since the presentation has been doing so well and has attracted a steady stream of theatergoers, it is not surprising that London's West End will also be showing the musical. Opening night is on March 21 of this year.
Book of Mormon tickets will make great gift ideas for loved ones to celebrate a significant event, especially if seats are given to others who ordinarily do not treat themselves to a theater show. The event is strictly for adults. Busy theatergoers can partake in either a matinee or an evening performance in many instances. The musical has garnered a total of nine Tony Awards besides the Grammy that was awarded for the musical score. It has received high praise from critics, and the most lavish accolades were provided for the choreography, the music and the story that the show portrays. Vogue Magazine has stated that the musical might possibly be the funniest ever. Theatergoers looking for a good laugh cannot go wrong if they acquire tickets for an upcoming performance.
About Us
SuperbTicketsOnline.com has Book of Mormon tickets available for theater buffs. Concertgoers can obtain Taylor Swift tickets, Carrie Underwood tickets, and more.