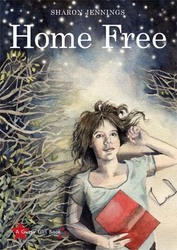 Toronto, Canada (Vocus) November 9, 2010
Second Story Press,an independent book publisher based in Toronto, is having a banner year for award nominations for its children's books. The medium-sized Canadian publisher, which produces an average of ten children's books a year, has received six prestigious nominations this fall. It was recently announced that four of their books are finalists for the Ontario Library Association's 2011 Forest of Trees Awards, a record for the company. And tonight will see the winner announced for the TD Canadian Children's Book Award in Toronto, for which the press' novel Home Free by Sharon Jennings is a finalist. The winning author will receive $25,000 in prize money.
Home Free is a junior novel about an imaginative young girl coming of age in the 1960's. Along with the TD Award it is also one of the four books included in the Forest nominations, for the Silver Birch Award. The other books are Violet, a picture book about a little girl who realizes she is a different skin color than her parents, nominated for the Blue Spruce Award; The Second Trial, a teen novel about a family who change their identities to escape an abusive father, nominated for the White Pine Award; and Guardian Angel House, the true story of a group of Catholic nuns who saved Jewish children during WWII, nominated for the Red Maple Award.
Along with the Forest Award finalists and the nomination for the TD Canadian Children's Literature Award, Second Story Press' teen fantasy novel Rough Magic is a finalist for the Quebec Writers' Federation Prize for Children's and Young Adult Literature. The winners will be announced at a ceremony in Montreal later this month.
Publisher Margie Wolfe is thrilled at the recognition: "It's been an extraordinary season for us. We are known for books that challenge younger readers so to have six out of ten children's books nominated for their excellence, reinforces our belief that great and beautiful stories can make even the most difficult content accessible. We are so proud of our authors and illustrators."
###