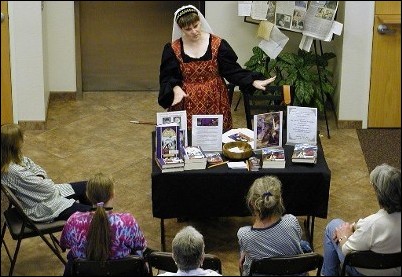 The love of magic, legend and mythos fostered by my grandmother is a very powerful influence in what I write
Port Orford, OR (PRWEB) May 1, 2007
As far back as the Knights of the Roundtable, medieval and fantasy-themed tales have idealized the heroic male. With more and more women becoming interested in fantasy fiction and role-playing games, as seen in the World of Warcraft phenomenon, it's time the genre moved past the macho heroes and featured strong female characters.
Author Jayel Gibson continues to promote a new era of video game inspired fantasy fiction from an uncompromisingly feminine point of view with Dragon Queen: An Ancient Mirrors Tale (Synergy Books, May 2007, ISBN 1-933538-46-4, $14.95), a prequel to last year's popular release, The Wrekening. Gibson was driven to create this platform for fearless females in fantasy because of her own past frustrations with the genre.
"The love of magic, legend and mythos fostered by my grandmother is a very powerful influence in what I write," says Gibson. "I was raised on Celtic folklore and the belief that a female could rival a male in the realm of legendary heroes. Strong female roles are difficult to find within the fantasy genre. It's time to provide readers with more dynamic female fantasy characters."
Dragon Queen's main character is the abandoned young heroine, Yavie. Betrayed by her lover, her siblings, and even her father, she must rely on her own strength and determination. She soon discovers she is the rightful heir of the throne of Aedracmorae and sets out on a treacherous adventure to claim her role and reunite the shattered worlds of her land.
Unlike most fantasy epics, women drive the storylines and hold positions of power in Gibson's writing. Gibson says she draws the inspiration for these powerful women from inside herself and the role-play game characters she creates.
Some believe online role-play games are leading to addictive and compulsive behavior, with players neglecting their real lives for their virtual ones. While Gibson admits she once played online role-playing games for up to eight hours per day, it was characters created for these games that led her to write the "Ancient Mirrors Tales." Rather than sucking the energy from her real life, online fantasy games were an inspiration for Gibson, who stresses the beneficial and educational aspects of role-playing games for children and adults alike.
A former teacher with a Masters in multi-cultural studies, Gibson's research of medieval weaponry and Celtic folklore is evident in the historical detail she weaves throughout her stories. For more information, visit Ancient Mirrors.
To schedule an interview with Jayel Gibson or request a review copy of Dragon Queen please contact Amy Currie at Phenix & Phenix Literary Publicists.
###