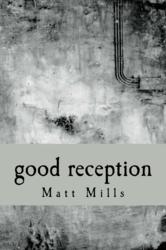 The websites don't exist as supplemental features – they are part of the story. In some cases the websites are the story.
Chicago, IL (PRWEB) September 25, 2012
Author Matt Mills looks to redefine the multimedia concept in his new novel "Good Reception" by including 17 websites and other online elements to craft an inclusive, multidimensional storytelling experience. The 17 websites, some of which include audio, video and/or animation, encourage interaction from readers and promote search and discovery as integral components of the story.
Mills created the websites and other interactive online features - including numerous Twitter accounts - alongside the pages of the book to further the story and to develop connections that could otherwise be lost between the lines. The writing of the book and the developing of the online elements occurred in unison.
"The websites are not peripheral to the book," Mills said. "The websites don't exist as supplemental features – they are part of the story. In some cases the websites are the story."
"Good Reception" is the tale of Maxwell Greyson, a confused loner who, despite his best intentions, constantly finds himself at odds with the world. Greyson's journey starts at zero and ends up near the edge of the multiverse.
Set in Seattle, the book explores both what is here right now and also what is way out there – all while investigating how members of present-day society deal with the constant onslaught of information.
"Today we are constantly flooded with information from all different angles," Mills said. "In 'Good Reception' I take a look at how we process this information, how we acquire it and also what information we choose to present to others."
Each chapter of "Good Reception" is supplemented by at least one website that adds further layers and dimensions and works to augment the storytelling experience.
"I didn't want to limit the story to the physical confines of a paperback," Mills said. "It's been fascinating and exciting to test the limits with different multimedia components and watch as the different elements combine to forge a cohesive story."
Through its interactive online components, "Good Reception" has the ability to live on after the final chapter, Mills said. The story doesn't end at the last page of the book, but rather "takes on a life of its own in the virtual world."
About the author
Matt Mills, a writer and Web developer, currently resides in Chicago after spending many years in the Pacific Northwest. "Good Reception" is his first novel.
About the publisher
"Good Reception" is published by Twice Two Media. Those looking to write a review of the book can request a free copy.