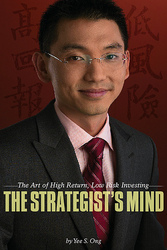 Throughout my career in money management, I find that investors often misunderstand how investing and the stock market really work
Burlingame, CA (PRWEB) October 13, 2009
Within a two-week period last year, the Dow Jones Industrial Average experienced both its greatest one-day point loss and one-day point gain ever. In 2009, the index has fallen more than 30% and subsequently risen over 50%. Veteran money manager, Yee Ong, has launched a new book to provide investors with the strategies to succeed in this volatile market.
As investors cope with the turmoil that followed the greatest bull-market in history and grapple with the ever-changing face of globalization, they are struggling to find the right approach to rebuild their portfolios. The Strategist's Mind: The Art of High Return, Low Risk Investing lays out the framework for generating superior returns while minimizing risk. The book demonstrates how widely held investment principles such as diversification and "buy-and-hold" have been misused while giving readers the tools to broaden their investment perspectives and find opportunities in any market environment. By using the investment valuation techniques and developing the investment insights discussed in The Strategist's Mind, investors will learn how to navigate profitably through the market's ups and downs.
"Throughout my career in money management, I find that investors often misunderstand how investing and the stock market really work," says Ong. "Consequently many individual and professional investors alike have taken excessive risks in their attempt to benefit from the market's potential growth. Through The Strategist's Mind, I hope to clarify some common misconceptions and show investors strategies that are effective in garnering a healthy risk adjusted return in just about any economic environment."
The Strategist's Mind: The Art of High Return, Low Risk Investing (ISBN 9780984255900, 165 pages in paperback) is available now at a retail price of $24.95. For more information, please visit http://www.yeeong.com.
About Yee Ong
Yee Ong is the founder and portfolio manager at YSO Capital Management, LLC, an investment firm headquartered in Burlingame, CA. He has over nine years of professional investing experience and has achieved market-beating returns since the inception of his firm in 2004. Having co-founded a technology firm and a sporting goods company prior to his money management career, Ong invests with the mindset of a business-owner. Ong holds a Bachelor's degree in Economics from UC Berkeley and is a CFA charterholder.
For interview availability, a review copy of The Strategist's Mind, or any other questions, please contact Edmond Yiu, Marketing Director at YSO Capital Management. 650-652-9809.
###