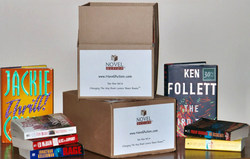 This move will allow us to increase our inventory of paperback and hardcover books, and to begin accepting audiobooks on CD
Chicago, IL (PRWEB) September 5, 2007
Novel Action, Inc announced today that it had moved its headquarters for NovelAction.com to a facility that nearly doubles the size of its previous location. NovelAction.com is a membership based online book exchange store with a centralized inventory of used books. It provides avid readers the ability to quickly, easily and cost-effectively exchange books they've read for other books they want. NovelAction.com offers both fiction and nonfiction books in paperback, hardcover, and now, CD.
Members select any books they want from the NovelAction.com website and send in an equal number of their own books in exchange. Books can also be purchased from the site. The company has flat rate shipping for up to 6 pounds of books and there are no transaction fees. All book exchanges are done directly with Novel Action, and all books offered through the NovelAction.com book exchange meet established quality guidelines.
"This move will allow us to increase our inventory of paperback and hardcover books, and to begin accepting audiobooks on CD" said Dianne Denton, Founder and CEO of Novel Action. "We're very excited about the move and the benefits it will bring for members of our online book exchange service." The Novel Action Online Book Exchange launched in Chicago in July of last year, and now serves members nationwide and in the U.S. military overseas. "NovelAction.com is of particular value to U.S. military personnel stationed overseas" said Denton, since there is often limited access to books written in English.
About Novel Action
NovelAction.com is a national, centralized online book exchange store offering members an easy, reliable and economical way to exchange books. NovelAction.com launched locally in July 2006, and nationwide in September of that same year. Novel Action, Inc. is a privately owned company based in Chicago, IL. For more information, visit http://www.NovelAction.com.
###