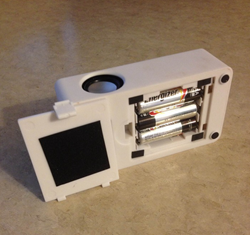 (PRWEB) October 24, 2013
The Boom BX is the latest speaker technology for music lovers. Compatible with all kinds of cell phones and MP3 players, the Boom BX can play music in high volume and rich sound without any wires, cables or Bluetooth. The product has been successfully test in the prototype phase and is the focus of a Crowdfunding campaign on Indiegogo.com. More details can be viewed here: Boom BX Crowdfunding campaign.
In order to hear quality music, all the user has to do is place his/her cell phone or MP3 player on the Boom BX speaker's top. The speaker will then deploy an innovative acoustic mechanism to deliver sound that's enveloping, clear and full-bodied.
Whether it's a party, the beach or some quality time alone, the Boom BX can be a great source of music entertainment. The music from Boom BX's speakers can quickly grab the imagination of people around, easily making the device the focus of all attention.
Hundreds of hours were spent creating the first Boom BX prototype. The idea was first put on paper and went through numerous design changes. Initially, the creators were apprehensive about whether their concept would really work. But when they decided to build the device, things went according to plan. They channeled their in-depth understanding of speakers and electro-mechanical systems to create a reliable and quality speaker device. After the breadboards and amplifier circuits were put in place, the device was put through several rounds of testing to arrive at a sound that is both enriching and crisp with no outside interference.
Boom BX can be powered by 3 AA batteries or a 5V DC USB connection. It has three operating modes – ON, OFF and STANDBY. STANDBY is poised to become the most popular mode because it allows the Boom BX to run for months on a single battery. What's more, users can pick up their cell phone off the Boom BX to attend a call and simply place it back for the music to resume.
If the crowdfunding campaign is successful, Boom BX will be available in a choice of 3 colors – orange, white and black – with prices starting for as low as $24. The creators will be offering Campaign backers on Indiegogo prices even lower than $24. For the campaign to become a success and Boom BX to go into production, the creators look forward to 1000 or more pre-orders.
Those willing to back this crowdfunding campaign can be assured of Nick Robinson's dedication to the project. The product will be manufactured and rolled out from a trusted factory in Shenzhen, China. This particular factory has won respect from all over for impressive manufacturing times and adherence to project timelines. Nick will personally work with the contact at the Shenzhen factory to monitor the quality of each Boom BX device that rolls out of the factory.
Contact
For queries regarding Boom BX or to schedule an interview with the creators, use any of the following means of communication:
Mike Reeves
Email: technologyprograms(at)comcast(dot)net
Tel: 815-550-9979