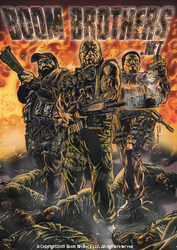 We're Gonna Need Bigger Guns
Kokomo, IN (PRWEB) April 1, 2009
In "We're Gonna Need Bigger Guns", the Boom Brothers' father, a decorated Marine war hero and police officer, is brutally murdered by drug-dealing, Satanist cult members. Raised learning how to use their Daddy's war trophy weapons and taught to always do the right thing; the three boys begin their first mission avenging their father's death. More opportunities for their brand of vigilante justice are realized over time as the brothers hone their new found talent for evening the score. As their gift for dealing death to those who deserve it become recognized and supported at the top of the government food chain, the Boom Brothers turn their avocation into a top secret, "Judge, Jury and Executioner" juggernaut for the benefit of God, Country and their Ma's apple pie.
If this sounds like an unlikely story, it is not. It was the opening statement at a news conference for the premier of the http:http://www.BoomBrothers.net web site. Every week, a new chapter will be released on the web site for those who want to continue following the Boom Brothers story. And every page is accompanied by an action-packed image beautifully illustrated by internationally known comic book artist, Luis Guaragna.
"The read is exciting and fun. But not for the faint of heart or those who cannot deal with graphic violence," said co-creator Richard Parker. In the story, the Boom Brothers swear to rid the planet of drug lords, terrorists, mobsters, traitors, tyrannical dictators, gang bangers, and baby killers. "They do just that," summarized Parker. "And without mercy."
Access to the online novel is free. Visitors only need to sign up for a password at BoomBrothers.net. Bill Parker, one of creators and partner at Boom Brothers LLC, said, "Boom Brothers is based on the lives and exploits of three real brothers in similar circumstances to the characters in our story. Some names and places had to be changed to protect the innocent and government interests. Those readers who know history or do some research on how our story parallels actual events and places will understand why."
The Boom Brothers business model is to build a large international audience who frequently visit the site to get updated entertainment on a continuing basis. Initially, BoomBrothers.net will earn revenue from banner ads, Google Adsense, and by selling a branded line of distinctive action and adventure merchandise and apparel. The next step includes selling a hardback version of the illustrated novel online as a collector's tabletop book through Amazon.com. The hardcover will feature the Guaragna illustrations which are similar in style to those in Frank Miller's movie book, "300". There are plans for the Boom Brothers characters and story to be developed into a motion picture, computer game, and to be offered as a licensed property. A second novel is already in progress.
Boom Brothers LLC is dedicated to developing, producing, and managing branded online entertainment for consumers. Boom Brothers is headquartered in central Indiana and is associated with Creative Direction, Inc., a marketing communications practice dedicated to help grow companies through direct response and online marketing programs. For more information on Boom Brothers LLC, call 765-252-0751.
###