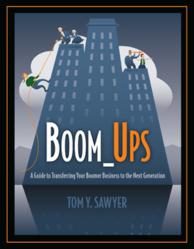 "Traditional ideas of succession planning do not work because the younger generation doesn't think, work and live the way Boomers do."
Grand Junction, Colo. (PRWEB) April 28, 2011
When 60-year-old business owner Tom Y. Sawyer read that Baby Boomers are retiring at a rate of 10,000 a day, the alarm bells went off. He realized that with such a mass exodus of knowledge and experience, American businesses are facing an unprecedented brain drain. And he saw it beginning at home with his own company, RSW Partners, a marketing and business consulting firm based in Grand Junction, Colorado.
"My partner and I were starting to look at retirement, but I realized how unprepared we were to transfer our expertise to the next generation," Sawyer says. "Traditional ideas of succession planning do not work because the younger generation doesn't think, work and live the way Boomers do. They are not willing or prepared to step into traditional business roles and structures. So it was clear to me that we had to create a new framework from which we could transfer the wealth and knowledge of our Boomer owners in a way that leverages the strengths of both generations while mitigating our differences."
That framework, called Boom_Ups, began to take shape at RSW Partners, where Sawyer and his partner, Dan Ryan, provide marketing, advertising, public relations and business development services. "We saw the same problem looming with many of our Boomer-owned client companies," says Sawyer, "so I decided to take matters into my own and hands and come up with a solution."
Sawyer developed the Boom_Up concept and began to convert RSW to a Boom_Up company while also working directly with other Boomer clients. Sawyer says it's a work in progress, but the concept is starting to catch on as Boomer entrepreneurs begin to realize its potential as a viable, win-win exit strategy.
"As Boomers, we must recognize and honor the differences between generations and build new business models around those differences," he says. "The Boom_Up concept is that type of model: one that can ensure the successful continuation of Boomers' businesses as they retire or withdraw from the active leadership of their companies."
According to Sawyer, the Boom_Up model strongly leverages the proven success of the original Boomer business while providing a structure for morphing operations into a business model that can be embraced by future Gen X and Gen Y leaders. "In essence, the Boom_Up model is a reconciling business and cultural framework that facilitates and supports a successful inter-generational hand-off of the business," Sawyer says. "It is a process of pivoting a successful company into a new entity that is positioned to continue its operations indefinitely with new leadership from the next generation."
To learn more about Boom_Ups, subscribe to the Boom_Ups blog at http://www.boom-ups.com or join Boom_Ups on Facebook and Twitter (@boom_ups).
About Tom Y. Sawyer
Tom Y. Sawyer has a proven track record as a principal architect, leader, and strategist for successful business and technology ventures. Currently Tom is President and Managing Partner of RSW Partners, a hybrid marketing and business development consulting company located in Grand Junction, Colorado. In addition he's authored "Pro Excel Financial Modeling Building Models for Technology Startups," a detailed business strategy guide for entrepreneurs. In his past professional life, he founded and sold an Internet data storage dot com, served as President of a regional Internet Service Provider and served as the founding President of Mover's Suite Software, the largest enterprise software and consulting company in the moving industry. Tom has served as Chief Technology Officer of a GPS/GIS centric engineering technology services company and gained Fortune 100 senior management experience directing the Information Technology department for the Martin Marietta Space Launch Systems Titan IV missile program.
###