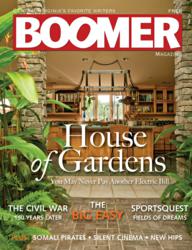 BOOMER Magazine Lets Area Baby Boomers Know What's Going on in Richmond, Charlottesville and Williamsburg, Virginia
Richmond, VA (PRWEB) April 12, 2011
BOOMER Magazine's April-May 2011 issue features several new editorial articles that let their readers know what is going on in the central Virginia area with spring events and current happenings. Articles in the magazine can also be found in an easy-to-read online format at theboomermagazine.com.
One of the new articles, "Field of Dreams," details the controversial, new Richmond sports experience, SportsQuest. Tackling the issues of its funding (SportsQuest received taxpayer federal stimulus money for its startup), a delayed building schedule, what can be perceived as "bullying" the central Virginia youth sports market, and the credibility of its academic aspirations for young athletes. BOOMER asks SportsQuest founder Steve Burton for the details many Virginians have wanted to know. It also provides Burton the opportunity to help set the record straight.
Fighting controversy and a recession, SportsQuest, the multi-million dollar sports complex in the suburbs of Chesterfield County, first broke ground two years ago. The outdoor portion of the facility is already open and host to football and soccer games and practices, along with track and field activities. BOOMER Magazine gives the exclusive, inside scoop on the details surrounding the much talked about sports complex.
Engaging supporters and fighting critics, Steve Burton's dream of an outdoor sports experience have become a reality. The mission of Burton's SportsQuest, as he puts it, is a sincere assertion to the young athletes of central Virginia.
"For us, it is all about training athletes of various abilities. Some people train to make the NBA. Some people train to get a college scholarship. Some people train just to make their high school team," Burton states.
Now, it is possible that SportsQuest could become the training grounds for future VCU Rams college basketball stars.
BOOMER Magazine's front cover and lead article,"Style & Sustainability," is about a unique housing community in Hampton Roads, Virginia – the Garden Atriums of Poquoson. The Garden Atriums of Poquoson is the nation's leading self-sustainable residential community, with indoor foliage that aids in energy efficiency.
These garden homes blend eco-friendly lifestyle, innovative architecture and sustainability that are a new concept of design to the central Virginia area.
BOOMER writer Erika Wells interviewed Garden Atriums of Poquoson developer Stuart Rose about the community for the feature story.
"He definitely had a grasp on the idea of sustainability, and you could tell he was passionate," Wells says about the interview. "He was eager to share how other people could use some of his methods to make their homes more energy efficient."
Another new addition to BOOMER Magazine is the new BOOMER Food column to satisfy the interests and tastes of any foodie, whether they are in the Richmond area or not.
BOOMER Food is a unique, new feature highlighting local central Virginia celebrities cooking their favorite dish while being interviewed.
In this issue of BOOMER Magazine, head chef of The Jefferson's Lemaire Restaurant (one of the most famous hotels in America) Walter Bundy, invites BOOMER Magazine readers into his own home kitchen.
Chef Bundy shares how he got started cooking and how he made his way to The Jefferson Hotel in Richmond, VA. He offers cooking tips and rules to live by for anyone who enjoys making meals in the kitchen.
"Cook what you love" and "Be healthy… but also allow yourself to be human," Chef Bundy shares with readers.
Coinciding with BOOMER Food in BOOMER Magazine, readers can also get exclusive recipes from Chef Bundy on BOOMER's website at theboomermagazine.com.
Find the April-May 2011 issue of BOOMER with the Garden Atriums of Poquoson's "House of Gardens" on the cover beginning early April at Martin's, Kroger and WaWa.
First published in 2007, The BOOMER Magazine, a baby boomer's favorite read, can be found in doctors' offices, hospitals, Martin's supermarkets, Kroger grocery stores and WaWa convenience stores – among many other places targeting local Virginia baby boomers.
The BOOMER Magazine is published by Ross Publishing, a Richmond, VA-based company which also publishes Seniors Guide Magazine and its correlating website SeniorsGuideOnline.com. Seniors Guide is the best online resource for finding assisted living, retirement communities and senior living options in Indiana, Kentucky, Ohio, North Carolina, and Virginia. Home Care Choice Magazine is another Ross Publishing product that helps caregivers find home care and home nursing care for their favorite senior. The correlating website is HomeCareChoice.com. Ross Publishing began in 1991 and has been publishing helpful, free publications and websites ever since.
###