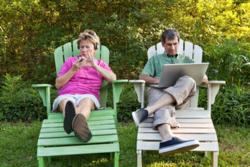 The advance of technology is based on making it fit in so that you don't really even notice it, so it's part of everyday life.
Bill Gates
Montreal,QC (PRWEB) November 27, 2012
Boomer Technology; owned by boomer Mike Gaudreau of Montreal, posts recent technology news and views to inform the boomer tech user what is evolving and what is hot in technology. Of course baby boomers are those born between 1946 and 1964 and are largely responsible for what has become today's technology revolution. Guys like Gates and Jobs and so many more are from this very influential generation. And boomers are well known to be big users of all forms of modern technology.
Boomer Technology covers computers,smart devices such as mobile phones and tablets and e-readers,personal software,home electronics, social media and digital photography. Science and society are also covered. Articles are published from various sources and are updated daily;with at least 2 or three new articles posted. Original content is also written and featured from time to time covering personal thoughts and opinions on modern technology. "How to" videos are also available.
While this site is intended to inform boomers, it of course may appeal to all ages.
The site syndicates its content on Feedburner, LinkedIn, Tumblr, Facebook, Google+ and Twitter; so it can be followed and accessed from just about anywhere on the internet. The site is also mobile friendly.
ABOUT BOOMER TECHNOLOGY
Boomer Technology was founded November 2012 by Mike Gaudreau of Montreal. Mike designed the site and operates it. Guest bloggers are welcome. Mike is a retired IT and Telecommunications executive. More info about Mike can also be found on LinkedIn.