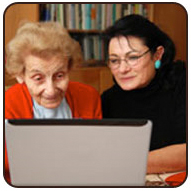 I will probably be working the rest of my life, so it's crucial to me that I'm doing something I love and something meaningful
Knoxville, TN (PRWEB) November 27, 2012
With insufficient retirement savings baby boomers are competing with their younger counterparts for diminishing job opportunities. At the same time, as they and their parents pass away in greater numbers, libraries of valuable life lessons, the greatest body of wisdom in history, are being lost forever.
The Living Legacy Project was created as a means to solve both problems. The Project's mission is to educate families about the cost to future generations if these life lessons are lost and to assist with taking a first step to secure an honored place in family history.
"As a demographic, nobody is better suited to do this work than baby boomers who need the extra income, have lived through one of the most tumultuous eras in our nation's history, are the closest connection to the Greatest Generation, and can utilize skills they have accumulated during their lifetime", remarks co-founder, Tom Cormier.
To train, organize and mobilize a boots on the ground network, Cormier created the International Association of StoryKeepers (I-ASK). Members take an online Certified Legacy Advisor course, and given a number of pathways to revenue based on their natural strengths. Membership in I-ASK is $150 per year and includes the certification course.
The Project's greatest challenge is training CLAs quick enough to serve families in all communities. The size of the market is immense and requires reaching families in many ways. During their training CLAs are taught to perform a "Legacy Matters Program" tailored to benefit residents and clients of senior living communities, financial planners, reverse mortgage brokers, ethnic and cultural groups, faith based organizations and more.
Losing her mother to Alzheimer's Disease, Pat White, a former Columbus, Ohio court reporter and now owner of Legacy Matters to Me, has become a CLA to install a "Legacy Matters Welcome Program" in Alzheimer's care facilities. The program helps new residents transition from private homes to facility living. "I wish I had known about this when my mother was in early stage dementia." says Mrs. White. "I am able to use my court reporter skills to record the voices of residents as they identify people in old family photos. It is therapeutic for me and it does wonders for the resident and family too"
Golden Adams, a former 8th grade science teacher, utilizes his experience and Certified Legacy Advisor credentials to conduct legacy education workshops for genealogy and historical society groups. "I was looking for a way to supplement my retirement income and at the same time make a difference. The Living Legacy Project fit the bill perfectly. As an accredited genealogist and now a CLA, I am building a client base in a genre I am passionate about and enjoy showing how to preserve and pass on legacy stories.", says Adams.
The need is great but the process is not without its challenges. A recent survey conducted by Allianz asked baby boomers and their parents, "When it comes to receiving or passing down an inheritance, what is more important to you, life lessons and values or financial assets and real estate?" The results favored life lessons and values by a factor of almost 8 to 1. Yet, only a fraction of this huge demographic has a plan to preserve and pass on their life experiences that generally make up the living history of the 20th century.
Morena Cameron, a laid off mechanical designer from Melbourne, Florida recently joined the cause for reasons mirrored by many others. "I will probably be working the rest of my life, so it's crucial to me that I'm doing something I love and more important, something meaningful", she says. "I have never been in my own business so I'm a bit anxious about that but it's exciting to see "Morena's Memory Chest" in print. I can't wait to get out there and save history"
In addition to archiving "talking photos" on DVD as part of the Legacy Matters Program, CLAs back them up in the Project's cloud-based archive and sharing platform, LegacyStories.Org. This way the extended family can be inspired today when values and life lessons are needed most.
"It's an ambitious undertaking", says Cormier, "but we are growing quickly with CLAs in 37 states and 3 countries since the Project officially launched in September, 2012. As our baby boomer CLAs learn to save the living history of others, they are reminded about the importance of securing an honored place in their own family's history. Everyone wins and we can do this."