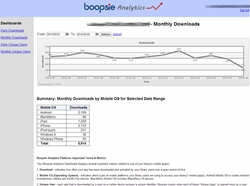 We expect it to revolutionize the way that people interact with their public library in the same way Amazon has used data to fundamentally change the way we purchase books and other products.
Sunnyvale, CA (PRWEB) May 27, 2014
Today Boopsie announced the launch of their proprietary analytics service, Boopsie Analytics™. In the initial release, Boopsie's library-customers will have access to statistics about the use of their library's app such as: unique monthly and daily app users, as well as the number of downloads of their library's app on each of the mobile device types that Boopsie's platform supports.
"Library users are increasingly utilizing library services from their mobile devices," says Boopsie CEO Tony Medrano. "We are seeing significant growth in library apps being downloaded and repeat usage is growing as well. Our library-customers have found these statistics to be a critical part of their budgeting process as it shows the cost effectiveness of serving patrons on their mobile devices."
"Boopsie's statistics have been immensely helpful to our efforts to optimize our delivery of library services to our community," says Chris Prior of St. Louis County Library. "We are excited about the additional visibility that Boopsie Analytics will provide us into the services are patrons are using so we can make the best decisions to serve our community."
"This is the first step towards delivering high-powered analytics to libraries so they can track usage of the app, monitor reading habits, identify patterns in the data, and use that information to provide a better experience to their patrons," says Boopsie advisor, Dr. Mike Housman. "We expect it to revolutionize the way that people interact with their public library in the same way Amazon has used data to fundamentally change the way we purchase books and other products."
The initial release will provide libraries with easy-to-use insight as to how often their library's mobile apps are being downloaded and used on all major mobile device types. There will be four separate sets of data available in the release: unique monthly users, unique daily visitors, the number of downloads daily and monthly downloads.
"Individual library statistics are easily accessible for all libraries from the Boopsie Analytics dashboard," says Jane Goh, Senior Director of Marketing & Product Management. "With one click, librarians can easily check the effectiveness of their mobile app promotional activities and even export their statistics into Excel for communication to their boards and budget committees."
"Boopsie's platform not only tracks downloads and users across more than 2500 library locations supported by our platform," says Tony. "But, we also track use of particular services delivered through our library-branded apps, like eBook and eAudioBook checkouts and visits to other library vendors' services." Boopsie plans to launch additional categories of usage statistics for libraries, library industry vendors and publishers in the coming months
Boopsie Analytics(™) will be released to active library clients in the next week who will notice a seamless upgrade to their current library statistics dashboard.
About Boopsie
Boopsie, Inc. was founded in Silicon Valley in 2006. We are the industry-leading mobile platform-as-a-service (PaaS) provider for over 2,500 library locations worldwide. Boopsie's library-branded mobile apps for libraries are affordable, easy to deploy and maintain, and enable libraries of all types and sizes to quickly acquire new users and increase circulation. Our mobile apps are fully hosted and maintained by our customer service organization. We build native mobile apps for libraries on Android, iOS, Windows Phone 8, Windows Mobile, Windows 8, Kindle Fire, and BlackBerry platforms. Boopsie enables 24/7 remote library access via the user's device of choice. Visit our website for more information about Boopsie's mobile apps for libraries.