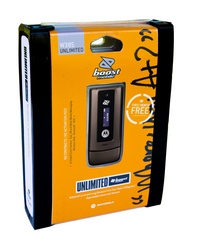 Birmingham is a great market for Unlimited by Boost as we have the opportunity to provide a real solution for consumers seeking a reliable, affordable and convenient wireless calling plan
IRVINE, Calif. (PRWEB) October 22, 2007
Consumers can take advantage of unlimited local and long distance wireless voice service for $55 a month, or unlimited local and long distance wireless voice service, and unlimited text and picture messaging for only $60 a month. Customers making or receiving calls outside of their home calling area are charged 15 cents per minute.
With this new plan, the Birmingham home calling area includes the greater Birmingham metropolitan region. Starting Nov. 12, Birmingham residents will also have the option of expanding their home calling area to include Atlanta, Georgia for an additional $5 per month.
"Birmingham is a great market for Unlimited by Boost as we have the opportunity to provide a real solution for consumers seeking a reliable, affordable and convenient wireless calling plan," said Don Girskis, general manager, Boost Mobile. "We are confident that local residents will find Unlimited by Boost to be the calling plan that satisfies their wireless needs."
The availability of Unlimited by Boost in Alabama is part of a service and sales expansion to 10 additional U.S. states. Previously offered in California and Texas only, Unlimited by Boost is now available in 12 states including: Alabama, Arkansas, California, Florida, Georgia, Louisiana, Mississippi, Nevada, North Carolina, Oklahoma, Tennessee and Texas.
For a limited time, Boost Mobile is offering the first month of Unlimited by Boost service free of charge with purchase of a new phone, including the Motorola c290 and W385 phones, and with activation of a new account. The suggested retail price for the c290 is $99.99 and $129.99 for the Motorola W385. Starting Nov. 12, Boost Mobile will offer a wireless Web price plan that includes unlimited voice, unlimited text, unlimited picture messaging and unlimited Web browsing for as low as $55 per month depending on the market.
Unlimited by Boost is available at participating wireless dealer retail locations in Birmingham, and starting next week will be offered at local Wal-Mart stores. Birmingham residents can locate their nearest participating wireless dealer offering Unlimited by Boost by calling 1-877-TLK-MORE (855-6673) or online at http://www.boostmobile.com.
Unlimited by Boost customer benefits offered at no additional charge include voicemail, caller ID, call waiting and 3-way calling. Unlimited by Boost is also making it easier for customers to pay for their service. With automatic monthly payment now available online, customers can register a credit card with Unlimited by Boost Customer Care and monthly payments will automatically be deducted on the customer's monthly anniversary date. Customers can also purchase Unlimited by Boost rechargeable cards to replenish their accounts at participating 7-Eleven stores.
As with all service plans available from Boost Mobile, there are no contracts, credit checks or activation fees. Unlimited by Boost operates on a dependable nationwide CDMA network, providing customers with high-quality wireless service that enables them to use their mobile phones virtually anywhere in the U.S.
Unlimited by Boost marks Boost Mobile's first product and service offering to take advantage of Sprint's CDMA network technology. Boost Mobile continues to sell and support both Pay-As-You-Go and Boost Premium Prepaid (hybrid) wireless service and handsets nationwide that operate on the Sprint Nextel iDEN network.
About Boost Mobile
Based in Irvine, California, Boost Mobile, LLC, a division of Sprint Nextel Corporation, (NYSE: S), is a lifestyle-based telecommunications brand focused on offering premium Pay-As-You-Go wireless phones and services. Boost is among the fastest growing wireless services in the U.S. and now has 4.5 million customers - the majority of which are under the age of 25. Experience Boost on the Web at http://www.boostmobile.com
Editor's Note:
Images of Unlimited by Boost local market coverage maps, the Motorola c290 and W385, and interviews with Boost Mobile executives, wireless market analysts, and local Unlimited by Boost subscribers are available upon request.