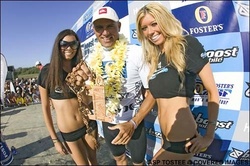 IRVINE, Calif. (PRWEB) October 23, 2007
This year's Boost Mobile Pro show will also feature two youngsters, Dane Reynolds and Jordy Smith, as they rise to stardom at this year's event, in addition to the second annual Hurley's "Keys to the Continent" that pits surfers from Australia, Brazil, South Africa, the United States, Hawaii and the Foster's Rookies against each other in a new contest format.
The show will also give a behind-the-scenes look at the lifestyles of professional surfing and highlights from one of the busiest weeks in the action sports industry including the Surfer Poll Awards where Kelly Slater won his 13th award and phenom Jordy Smith won the Breakthrough Surfer of the Year award presented by Boost Mobile.
Reaching an estimated 160 million homes, an international highlights TV show will also be distributed around the globe by TWI (Transworld International) with additional Boost Mobile Pro airings on Globosat (Brazil), ESPN Dos/Mas (South America), Gaora (Japan), Premier Media Group and Nine Network (Australia), Sky NZ (New Zealand), Starhub (Singapore), Videoland and Truevision (Taiwan), AstroSports (Malaysia, Brunei & Indonesia), BeTV (Belgium), Extreme Sports Channel (Europe except Italy), Sailing Channel (Italy), Sport + (France), M-Net Supersport (Pan Africa) and Extreme Sports Channel (Pan Middle East).
About 2007 Foster's ASP World Tour
The Association of Surfing Professionals (ASP) is the governing body of professional surfing. Crowning surfing's undisputed world champions since 1976, the ASP sanctions the following tours: the Foster's ASP World Tour, the ASP Women's World Tour, the World Qualifying Series (WQS) and the World Longboarding, Junior and Masters Championships. The ASP is dedicated to showcasing the world's best surfing talent in a variety of progressive formats and has revolutionized the way the world watches surfing via their webcasts. The organization is divided into seven different regions: Africa, Asia, Australasia, Europe, Hawaii, North America, and South America.
About Boost Mobile
Based in Irvine, California, Boost Mobile, LLC is at the epicenter of the action sports industry. A lifestyle-based telecommunications brand focused on offering premium pay-as-you-go wireless phones and services to the youth market, Boost resonates with its consumers through strategic partnerships with leading youth lifestyle brands and companies. Boost team riders comprise of more than 50 of the world's top action sports athletes, and include 2006 World Champion Kelly Slater, Cory Lopez, Makua Rothman, Shane Beschen, Rob Machado, Dane Reynolds, Jamie O'Brien, Ian Walsh, Kalohe Andino and Megan Abubo.
About Hurley
Hurley is a leading global youth brand with strong roots in surf, skate, art and music. Hurley develops world-class products for guys, girls, and kids, including sportswear, footwear, eyewear, accessories, girl's swimwear and wetsuits. A wholly-owned, independently run subsidiary of Nike, Inc., Hurley is located in Costa Mesa, CA, with international offices in Tokyo, Sydney and Barcelona.
About FUEL TV
FUEL TV is an action sports lifestyle network for skateboarding, snowboarding, surfing, BMX, freestyle-motocross, and wakeboarding. A unit of Fox Cable Networks, FUEL TV was launched July 1, 2003 and is seen in 24 million U.S. homes. To subscribe to FUEL TV, call 877-4-FUEL-TV. For program times and other information, visit http://www.fuel.tv.