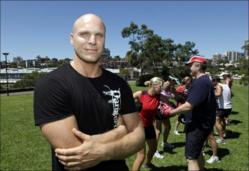 Within 4 weeks, my energy levels were soaring
Sydney (PRWEB) February 12, 2013
Dangerously fit Boot Camps are proven to have helped so many people successfully achieve their most-desired weight. People can only rave about about their experiences.
"For my age, I just wasn't functioning properly, mentally, physically…I was medically deteriorating," says Mark Tully, who joined Dangerously fit bootcamps at Bondi Beach. "And now since Dangerously fit, things have changed. Once into a few sessions, you look forward to the new sessions."
"Within 4 weeks, my energy levels were soaring," gushes Peita Gregary of Zetland, Sydney.
Offering a 50% discount for new members, Dangerously Fit Balmain Boot Camp will run 6-week training programs that will implement a combination of high intensity and resistance training workout plans. Supported by an Optimum Nutrition Plan designed by Sydney's top Nutritionist, Rachel Jones, the program has helped participants lose as much as 15 kilos in 6 weeks.
Fad diets are out. Dangerously Fit's Balmain Boot Camp seeks only long-term results and throws out any quick-fix solutions. The workouts will challenge the members to push beyond their usual limits, but the results will be all worth it.
As fitness expert and Dangerously fit Boot Camp's founding head, Dan Clay says, "It's only for action takers…period."
At Boot Camp Balmain, registrants will be given access to their own Body Transformation Trainer and Body Transformation Nutritionist with whom they can get in touch with through the Dangerously fit online communication system.
All Personal Trainers at Dangerously Fit are top-notch. They are all highly trained, highly equipped and highly skilled, with Certificates 3 & 4 in Fitness and in Senior First Aid. They are also insured for up to $20,000,000 for public liability. Every single registrant for the Balmain Boot Camp will be putting their health in the best hands when enrolling for Dangerously Fit Bootcamp.
For more information about the New Balmain Boot Camp, log on to http://bootcampsydney.com.au.