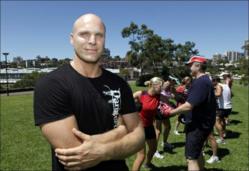 Expect to do a lot of sprinting and climbing, heavy weight lifting and interval training exercises combined with high intensity aerobics exercises
LA (PRWEB) April 12, 2013
Premier fitness program, Dangerously Fit Boot Camp Balmoral opens its training program on April 27th for the 2013 Balmoral Burn running event taking place on June 2nd.
Tagged as a fun, family event, The Balmoral Burn is a 420 meters race (about the size of 4 football fields) along Awaba Street which happens to be one of the steepest uphill climbs in the city. Conquering it will be quite a feat.
The competitors are not to be underestimated. The Balmoral burn is graced by the country's top leisure elite athletes and paralympians. Last year, paralympian Kurt Fearnley made time of 5.26 minutes, beating his own record in the Para Burn event. In the very same year, the event had broken their $3 million mark.
Hosted by the Humpty Dumpty Foundation, Balmoral Burn is one of the most important fund-raising charity fitness events in Australia. Through this race event, it has provided much-needed medical equipment to several children's hospitals and health centres.
"Expect to do a lot of sprinting and climbing, heavy weight lifting and interval training exercises combined with high intensity aerobics exercises. We'll be running up that hill as many times as we need to get your muscles conditioned for the actual event. Dangerously fit Balmoral boot camp is definitely raising its banner high and proud this year" says Dan Clay, Owner and Founder of Dangerously Fit Boot Camp.
"The response we have received for this training program has been unreal, the local community are really getting behind this event and are looking forward to the challenge that the Awaba Street hill offers".
Dangerously Fit promises better results in less time for a third of the cost of other local Sydney personal training services. Plus, they offer a free two-week trial to all newcomers. For more information about Dangerously Fit Boot Camps visit http://www.bootcampsydney.com.au. Every personal trainer at Dangerously Fit hold certificates 3 & 4 in Fitness and certified advanced in First Aid.