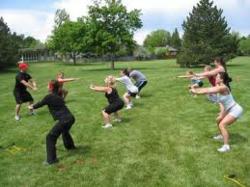 The man who has confidence in himself gains the confidence of others. - Hasidic Proverb
Chino Hills, CA (PRWEB) July 11, 2012
Personal trainers are extensively schooled in nutrition and exercise techniques, but they find there is little education in boot camp marketing. Yet, this information is needed for success when they make the shift from working for someone else to running their own businesses. Sam Bakhtiar, the CEO of the Fitness Concepts franchise in Chino Hills, realized this after he emerged with his B.S. in Premed and Nutrition, and his Doctorate in Chiropractic, only to find he still had no idea how to earn a decent living.
"I wasn't satisfied with the average personal trainer salary of $30,000," Sam explains, "so I set out on a 20-year journey to educate myself in every way possible. I went to conferences, seminars, workshops, millionaire mastermind and other networking events. I read every e-book, downloadable manual and marketing book I could find. I signed up for business coaching and mentorships. The culmination of all this investment is a $2.3 million salary, a dream lifestyle – and this boot camp marketing manual I've penned."
It's only been a few months since Roxie Beckles discovered Sam Bakhtiar's new "Six-Figures In 67 Days" manual. Yet, she has exploded her income beyond her wildest dreams, she says. "When I found Sam, I'd been training for 12 years, but my career was stagnating. Basically, I was a slave to my job – to the point that it was no longer fun and I was debating a career change." After reading Sam's boot camp marketing manual, she decided to "be emancipated" by launching her own fitness boot camp studio.
"Sam's manual provided a very clear step-by-step approach to starting a boot camp business. As I was reading, I thought, 'I can totally do this!' I read it cover to cover and contacted Sam for a free business coaching call to have a few of my lingering questions answered. The support I've received has been tremendous! Even though starting a business is a risk, I was able to minimize that risk by following Sam's tested, tried and true methods and literally double my income in the first month."
Roxie was a top-tier trainer before, but she feels she has improved even more now because she is happier with her career. Through "Six-Figures In 67 Days," she learned all the basics of boot camp marketing – how to develop an attractive program, choose a successful location, minimize startup expenses, set her own schedule, get paid to speak at events, sub at high-end clubs, charge over $100-an-hour, and automate dull-but-essential marketing tasks.
"Honestly, it was WAY easier than I ever imagined," Roxie explains. "So much of my business has put on autopilot that I can go away on retreat in Las Vegas with Sam and his millionaire friends for the week – and I'm still making money!" She says the new manual showed her how to use customer management software to track clients, set up recurring payments and follow-up with prospects. It also taught her everything from designing business cards and creating a website to prospecting at other clubs and developing a successful referral program. "The manual's email templates and closing strategies were enormously helpful and saved me a lot of heartache," she adds.
"Six-Figures In 67 Days" was originally offered as a premium product on Sam Bakhtiar's boot camp marketing website, but he is offering a FREE download for the month of July as part of a special promotion. Interested individuals can take advantage of this offer at http://www.Super-Trainer.com.
About Sam Bakhtiar
Sam Bakhtiar is a Persian-born American with over twenty years of experience in fitness training and body building. After completing B.S in Premed and Nutrition, Sam also received a degree of doctorate of Chiropractics. Along with being one of the best fitness trainers, Sam is also a business and marketing expert. After establishing a successful fitness training business with substantial income, Sam is helping other professionals in the industry to achieve their business goals. For more information, please contact using the following information.
Contact Information:
Sam Bakhtiar
Fitness Concepts
909-393-9075
http://www.super-trainer.com