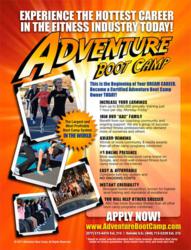 BootCampExercise.com has something for everyone. You can find a class, learn the home workouts and even start a boot camp business.
(PRWEB) January 20, 2012
With jumping jacks, push-ups, partner drills, core work and more, boot camp classes are an effective high-energy workout for fitness lovers of all levels. In recognition of their ongoing interest and popularity, a new website at http://www.bootcampexercise.com/ makes it easier than ever to find a boot camp exercise class, a DVD or video, or a boot camp business program or system for those interested in starting their own business.
In particular, http://www.bootcampexercise.com/ offers a directory of state-by-state boot camp classes, a list of the best at-home boot camp workouts available on DVD, and specific boot camp business opportunities for personal trainers and other fitness professionals looking for a blueprint to starting or upgrading a fitness business. The boot camp business models include boot camp training and certification as well as business coaching.
"If you are looking for the best boot camp exercise class or program in your area, then look no further. If you are thinking about starting your own boot camp exercise business, you are in the right place. And if you want to enjoy the challenge of boot camp exercises in the comfort of your own home, we've got you covered," said John Spencer Ellis, founder of John Spencer Ellis Enterprises, a fitness and personal development solutions company, and the creator of the global boot camp exercise craze. "You can get in great shape or get great advice on launching your own fitness business with this one boot camp-focused source."
In addition to boot camp classes, DVDs and focused business programs, the new site also offers information on boot camp weight loss, detox, and nutrition program options as well as details on other fitness and exercise programs and certifications.
About John Spencer Ellis Enterprises and Boot Camp Exercise Classes
John Spencer Ellis Enterprises is a solutions provider for fitness and coaching professionals around the world, providing education, turn-key business programs, coaching and resources for new and advanced fitness and coaching professionals. For more information about John Spencer Ellis Enterprises or boot camp exercise classes and business models, please visit http://www.bootcampexercise.com/
###