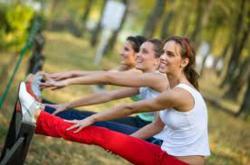 When you know what you want,and you want it badly enough,you'll find a way to get it. ~ Jim Rohn
Chino Hills, CA (PRWEB) January 12, 2012
It's easy to get leads for boot camp marketing efforts in January, when everyone is working toward their New Year's resolutions to "lose weight" and "get in shape." However, these people often drop like flies come springtime because either they've met their initial weight loss goals or they failed to make the most of their time in the camp. Sam Bakhtiar owns the successful Fit Concepts boot camp franchise based out of Chino Hills, California and offers these tips for retaining business well into the New Year.
1. Allow for one or two make-up sessions. Even though trainers want their camp participants to show up three times a week, without fail, there are occasionally unforeseen circumstances that come up. For instance, a participant may be suffering with a contagious sickness. Clients will appreciate the generosity of being able to make up a couple sessions later.
2. Be present in participants' lives. The best boot camp marketing pros call, email or text their clients on off-days. Maybe they'll offer healthy recipes, words of encouragement, or share a few heart-warming success stories. They are certainly always there to answer questions and provide support.
3. Offer gifts and promotions. To solicit referrals, some boot camps offer clients a free month of classes for each referral who signs up. A simple act like sending out "thank you" cards can mean so much to boot camp participants. Buy someone a free smoothie or chair massage as a surprise gesture. The little things build relationships and spread good cheer.
4. Build a tribe. Add fun events to boot camp marketing like themed dinner-and-a-movie nights, 5K races, luncheons, or other activities exclusive to members of each boot camp class. Work obstacle courses and team building exercises into classes to facilitate social interaction, so participants make friends and look forward to each gathering.
5. Provide substantial discounts for people who are willing to pay in full at the start of the year. Commonly, about 10-20 percent of the group will take advantage of a promotion like this, which will create a nice balloon of cash in January.
As a special New Year promotion, "7 Figure" Sam Bakhtiar would like to offer boot camp operators and personal trainers a free download of "Six Figures in 67 Days" at http://www.super-trainer.com.
About Sam Bakhtiar
Sam Bakhtiar is a Persian-born American with over twenty years of experience in fitness training and body building. After completing B.S in Premed and Nutrition, Sam also received a degree of doctorate of Chiropractics. Along with being one of the best fitness trainers, Sam is also a business and marketing expert. After establishing a successful fitness training business with substantial income, Sam is helping other professionals in the industry to achieve their business goals. For more information, please contact using the following information.
Contact Information:
Sam Bakhtiar
Fitness Concepts
909-393-9075
http://www.super-trainer.com
# # #