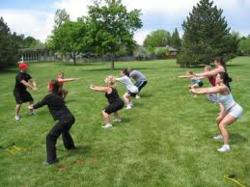 Without a sense of urgency, desire loses its value. ~ Jim Rohn
Chino Hills, CA (PRWEB) January 16, 2012
Boot camps are poised to be a hot commodity in 2012, just as they have been in recent years. In October, the American College of Sports Medicine named the top 10 fitness trends in 2012, which included several topics that pertain to boot camps: educated and experienced fitness professionals, strength training, fitness programs for older adults, weight loss, personal training, core training, and group personal training. Yet, given the increased level of competition, it is not enough to simply have a boot camp anymore. One can have the best boot camp in the area, but if it's not marketed as such, the trainers will have a hard time earning the income they deserve.
Boot Camp Marketing Expert Dr. Sam Bakhtiar has more than 20 years of industry experience. In addition to running the Fit Concepts Chino Hills boot camp, he also works as a certified personal trainer and offers boot camp marketing mentorship opportunities. Sam was able to transform his $20,000 salary into a $2.4 Million fitness empire in a relatively short span of time, thanks to ongoing education opportunities. "In this industry, knowledge is power," he says. "You've got to have a thirst for knowledge because the methods, trends and technology of boot camp marketing is always evolving."
For 2012, he recommends the following boot camp marketing best practices…
1. Specialize In Something.
"Trainers always like to say they handle all different types of people and that they're good at everything. However, that's not what the client wants to hear," Sam explains. "If you have a woman who's concerned with cardiac health, she wants to hear that you specialize in that and she wants to join the boot camp that has been specifically created for other heart attack survivors." He recommends running surveys and identifying the top trends for focus in boot camp marketing materials.
2. Offer Perks.
"It's not enough to simply exist. I've got probably ten competitors within 3 miles at my Chino Hills boot camp," Sam says. "So, we offer generous incentives for people to become part of our tribe. We have customer appreciation dinners, grocery store tours where we talk about nutrition, special seminars on different health topics, contests to win grand prizes, and other perks. You need to get creative with your boot camp marketing if you want to survive."
3. Systematize.
"I really can't stress this point enough. If you're operating your boot camp marketing plan by the seat of your pants every day, then you're wasting more time than you realize," Sam tells boot camp trainers. "You can't just stick your hand in every honey pot and presume your efforts will lead to sweet profits. My business is set up so I can take several days off and I'll still be making money off my business. My mentorship program shows you, step-by-step, how to set up a marketing system that works for you."
For more information on Dr. Sam Bakhtiar's boot camp marketing educational opportunity, visit http://www.super-trainer.com.
About Sam Bakhtiar
Sam Bakhtiar is a Persian-born American with over twenty years of experience in fitness training and body building. After completing B.S in Premed and Nutrition, Sam also received a degree of doctorate of Chiropractics. Along with being one of the best fitness trainers, Sam is also a business and marketing expert. After establishing a successful fitness training business with substantial income, Sam is helping other professionals in the industry to achieve their business goals. For more information, please contact using the following information.
Contact Information:
Sam Bakhtiar
Fitness Concepts
909-393-9075
http://www.super-trainer.com
###