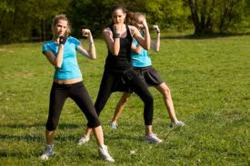 Consider the postage stamp; its usefulness consists in the ability to stick to one thing until it gets there. ~ Josh Billings
Chino Hills, CA (PRWEB) January 20, 2012
Boot camp marketing may not be rocket science, but there are so many avenues for getting one's business out there, that it can be a complex matrix of spending and strategizing. "Early in my career, I spread my resources too thin and wasted enormous sums of money on programs that didn't work," explains Dr. Sam Bakhtiar, a certified personal trainer and owner of the Fit Concepts Chino Hills boot camp franchise. He adds, "The best decision I ever made was pursuing further education to learn how to systematize my business and increase my profitability." Today his business brings in $2.4 Million a year.
Sam would like to offer trainers a few boot camp marketing tips to dominate the competition in 2012:
1. Specialize in multiple niche markets.
"One of the top New Year's resolutions this year is to 'get in better shape.' For some, this means lowering cholesterol. For others, this means improving range of motion to recover from injury. Some people need to lose 100 pounds or more, while others need to get rid of the last 10 to see their ab muscles. It's possible your boot camp can serve all these people, but clients want to feel catered to, so creating a niche program is a more effective way to stand apart from the competition," Sam says.
2. Focus on word-of-mouth and referral-based efforts.
"It's tempting to want to funnel all your boot camp marketing dollars into pay-per-click, website creation, or flyers aimed at new prospects. I do all of these things, but to a much lesser extent because cold conversions are expensive and time-consuming! My primary focus is my current clients. I want the vast majority of content, promotional dollars and effort to go into wowing them. I write them cards, send them newsletters, buy them dinners, and go grocery shopping with them. The little things contribute to relationship building and they bring in their friends. For every friend they bring in, I give them a free month of boot camp. That's how you grow your business," Sam says.
3. Convenient bundles draw more clients with perceived value.
"Nothing sounds more impressive than a package deal. For instance, you can offer a 'Diabetes Management' boot camp that includes three workouts per week, a specially tailored diabetes nutrition seminar, a grocery store tour, a day-by-day meal plan, weekly shopping lists, a care package of diabetic-friendly foods, a diabetes cookbook, an online webinar about beating sugar cravings, and a free gym bag. Create something that your competition doesn't have and drive home your value," Sam says.
"I see boot camps as an enduring trend for several reasons," Sam explains. "First, clients realize that they can still get individual one-on-one attention, but pay less with these programs. Second, trainers realize that one-on-one sessions lead to overworking and undercharging. The American College of Sports Medicine recently named 'group training' as one of the top trends for 2012, which is good news for trainers, but also shows how important boot camp marketing will become in an increasingly more competitive niche."
For more information on Sam Bakhtiar's boot camp marketing learning opportunities, visit http://www.super-trainer.com.
About Sam Bakhtiar
Sam Bakhtiar is a Persian-born American with over twenty years of experience in fitness training and body building. After completing B.S in Premed and Nutrition, Sam also received a degree of doctorate of Chiropractics. Along with being one of the best fitness trainers, Sam is also a business and marketing expert. After establishing a successful fitness training business with substantial income, Sam is helping other professionals in the industry to achieve their business goals. For more information, please contact using the following information.
Contact Information:
Sam Bakhtiar
Fitness Concepts
909-393-9075
http://www.super-trainer.com
# # #