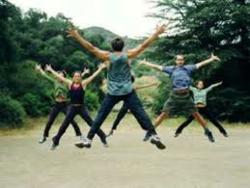 We would accomplish many more things if we did not think of them as impossible. ~ C. Malesherbes
Chino Hills, CA (PRWEB) February 15, 2012
The football industry lost a great legend on January 22nd, 2012. Even though Joe Paterno was recently marred by his poor handling of his former assistant coach's sexual misconduct allegations, Joe will always be remembered as a college football icon and a coach with an astounding 62 years of experience. Boot Camp Marketing Expert and Personal Trainer Sam Bakhtiar attended Penn State, where Joe worked, from 1991 – 1996 while pursuing his BS in Premed and minor in Nutrition. He admits that there is much that can be learned from Joe Paterno, no matter what business a person operates.
"Joe was a strong believer in honesty, perseverance and education," Sam explains. "He is highly regarded for his contributions to academic programs at Penn State… his 'Grand Experiment' program brought tremendous academic success. Joe made it clear to his athletes that education was important and saw to it that his athletes attended class and devoted time to studying. In 2008, Penn State's four-year graduation rate was 78 percent, which exceeded the 67 percent that most division I-A schools were seeing at the time."
Joe Paterno also exuded an amazing level of confidence, which is vital to successful boot camp marketing and operating. Joe once said, "Believe, deep down in your heart that you're destined to do great things." He also said, "Besides pride, loyalty, discipline, heart and mind, confidence is the key to all the locks." Before boot camp marketing can be successful, Sam explains, one must first create an unbeatable product and service. Ensuring that all trainers are continually educated and devoted, not to mention creating a boot camp program that delivers what people want and need most, is the essential starting block.
Boot camp marketing experts must also approach their trade with a sense of morality and ethics. Joe Paterno once said, "Losing a game is heartbreaking. Losing your sense of excellence or worth is a tragedy." Also, he said, "Success without honor is an unseasoned dish; it will satisfy your hunger, but it won't taste good." It can be tempting for boot camp operators to make superfluous claims that they are the best or to engage in black hat SEO and other tactics that unfairly undermine the competition, but eventually they will be exposed.
"The minute you think you've got it made, disaster is just around the corner," Joe Paterno warned. Even though Joe had 409 victories as head coach of Penn State and enjoyed College Hall of Fame Induction (not to mention an annual salary of over $500K), he still went through his fair share of set-backs. In 2006, he was struck by a linebacker and damaged his knee ligaments, but he still coached the 2007 Outback Bowl from the press box. In 2008, he sprained his leg and underwent hip surgery, but he coached the 2009 Rose Bowl regardless. Joe suffered hairline hip and shoulder fractures in August 2011 after colliding with a player during practice, but he coached from the sidelines in a wheelchair.
"Boot camp marketing takes tenacity, guts and passion," Sam Bakhtiar explains. "Joe's desire to be the best and not let anything stand in his way is to be admired and emulated by business professionals of all fields. When we think of our own boot camps, we need to give it our best shot to create a lasting legacy. It's not just about being the best boot camp, but about all the good we did for our clients and society at large."
Visit http://www.super-trainer.com for further personal trainer and boot camp marketing coaching.
About Sam Bakhtiar
Sam Bakhtiar is a Persian-born American with over twenty years of experience in fitness training and body building. After completing B.S in Premed and Nutrition, Sam also received a degree of doctorate of Chiropractics. Along with being one of the best fitness trainers, Sam is also a business and marketing expert. After establishing a successful fitness training business with substantial income, Sam is helping other professionals in the industry to achieve their business goals. For more information, please contact using the following information.
Contact Information:
Sam Bakhtiar
Fitness Concepts
909-393-9075
http://www.super-trainer.com
###