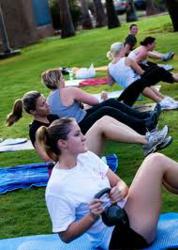 Most of the important things in the world have been accomplished by people who have kept on trying when there seemed to be no hope at all." ~ Dale Carnegie
Chino Hills, CA (PRWEB) February 16, 2012
Here are the facts: Americans receive 100 billion pieces of junk mail each year – which produces as much greenhouse gas as 9 million cars and as much pollutions as heating 13 million homes during the winter, according to NASA climate scientist James Hansen. Not only that, but Americans also receive 230 billion spam messages in their email inboxes each day, according to Symantec. It's no wonder people may not be thrilled to receive boot camp marketing messages on top of all that.
Yet, there are ways to adapt boot camp marketing to be as valuable as a personal message from a friend – and that is what all boot camp marketers should strive for, says 20-year industry veteran Sam Bakhtiar of Fit Concepts in Chino Hills, California. Here are five ways to keep boot camp marketing materials out of the trash – and boost profits in 2012.
1. Entertain people. "People love to laugh," Sam explains. "So if you can entertain people and make them smile, your mail will become something people look forward to, amid a dull day at work. You need to cultivate a humorous tone that prospects will want to share with their friends. Try to make every message as memorable as a Super Bowl Sunday ad."
2. Customize the message. "We're not all number-crunchers by nature," Sam says, "but there is a lot of merit in tracking your prospects. Invest in the software or hire an analytics guy to help shape your boot camp marketing messages. Your prospect list should be narrowed down by interest or marketing niche. You want people to feel like you understand their unique interests and needs."
3. Figure out what makes you different. "Who doesn't love James Bond? Do a little reconnaissance by spying on your competition and dissecting their boot camp marketing messages. Try to speak with a few of their clients to learn more about their strengths and weaknesses. Find points of distinction where you excel and play these up in your materials."
4. Solve problems. Sam advises, "To be effective at boot camp marketing, you should know your target audience inside-out. Do you have seniors who are bored with their retirement and crave socialization opportunities? Do you have women who have just had babies and want to bounce back into shape? Your marketing materials need to communicate how you're solving people's problems every day."
5. Step outside the box. "I know it's cliché," Sam says, "but you need to do something outrageous from time to time to set yourself apart from everyone else. One of our boot campers has become a spokesperson for our Grocery Store Tours. He dresses up in drag and plays the role of 'Aunt Judy' who finds it hard to make the right choices in the store and stay fit. The other campers think it's just a hoot! You need to find ways to make your boot camp marketing memorable and viral video worthy."
For more boot camp marketing tips, check out Sam Bakhtiar's blog and programs at http://www.super-trainer.com.
About Sam Bakhtiar
Sam Bakhtiar is a Persian-born American with over twenty years of experience in fitness training and body building. After completing B.S in Premed and Nutrition, Sam also received a degree of doctorate of Chiropractics. Along with being one of the best fitness trainers, Sam is also a business and marketing expert. After establishing a successful fitness training business with substantial income, Sam is helping other professionals in the industry to achieve their business goals. For more information, please contact using the following information.
Contact Information:
Sam Bakhtiar
Fitness Concepts
909-393-9075
###